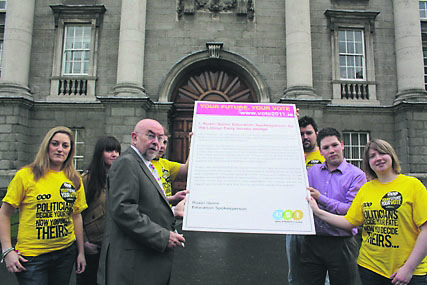 By Mark Nother
With growing levels of attendance in Irish third level institutions, and an acceptance that the current funding arrangements for third level education in Ireland are not sufficient, General Election 2016 is set to mark a turning point in the future of funding. However, with a wide variance of stances between parties on the issue, and a lack of plans put in place by the outgoing government it is not clear what this future will look like.
At present there is 'free fees' for higher education in Ireland. Third level fees were abolished by the Labour Party, as part of a coalition government with Fianna Fail, in 1995 and were replaced instead by a registration fee, which is now known as the student contribution charge. This started at a level of €190 in 1995 and rose incrementally to €750 in 2003. Through a number of increases over the following seven years this had almost tripled to €2000 by the release of Budget 2011.
In the build up to the last general election campaign in 2011 Labour were extremely vocal in their opposition to these rates and publicly signed a pledge with the Union of Students in Ireland (USI) to not increase this fee, and also campaigned to decrease it to the 2009 level of €1,500.
However, over the lifetime of the Fine Gael/Labour coalition, fees have increased to €3,000, through four annual €250 increases.
Similar to 2011 this will again become an election issue as Labour has committed to a €500 decrease if re-elected, as reported by the Irish Independent last month, which would bring the student contribution back to €2,500 by 2017 if re-elected. The Social Democrats have also committed to a decrease and are proposing a larger decrease of €1,000, which would bring the contribution back to the 2011 level of €2,000.
It must be noted that since approximately four in ten students receive some form of the student grant that the state is paying the contribution for roughly 40 percent of the student population.
Student Loans
Despite these increases to-date, a 2015 stakeholder discussion paper outlined the major funding challenges facing higher education. Currently, according to the paper, about 75 percent of the sector's annual costs of €2.7bn are provided directly by the state; a sum of approximately €2bn. According to Peter Cassels, chair of the Expert Group on Future Funding of Higher Education: "current funding of higher education is not sustainable given our demographics and the funding requirements of increased demand".
These problems are exacerbated by an increased demand which has seen a 12.6 percent increase in students enrolled in higher level education from 193,187 in 2010/11 to 217,520 in 2014/15, according to figures available from the Higher Education Authority.
This would suggest that whether the student contribution should remain the same or be altered there is a much wider shortfall that will have to be covered somehow. There have been a number of suggested changes to the system with some advocating higher fees, such as those introduced by the Tories in the UK, facilitated by a student loan system to replace the current grant system whereby students would pay higher fees by way of low-interest state loans which would be paid back post-graduation once certain income levels were hit; for example once a graduate began earning €25,000 they would begin repayments over a fifteen year period.
There has been opposition to this plan of student loans and indeed higher fees but with an unsustainable system in place there is little doubt that the debate on this issue is unavoidable. Young people now have to ask tough questions of themselves and those seeking their vote.
Is third level education a right or a privilege? Are we willing to pay more for the education we are receiving? If not, then who will pay?
Twitter: @MarkNother