How long have you been Kayaking?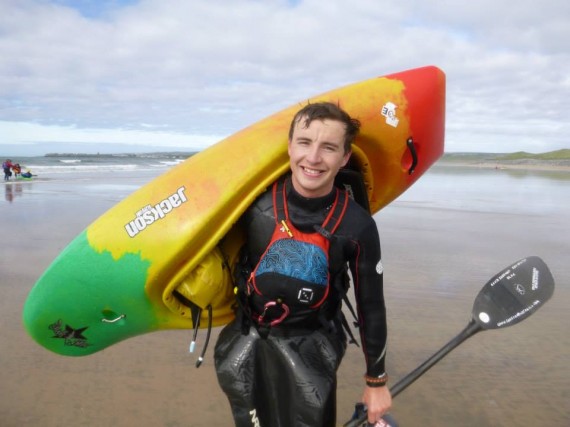 Almost 4 years now. I started a year before college.
What is your favorite discipline in Kayaking?
We do almost all disciplines in ULKC so I've tried the majority of them. I do whitewater the most but slalom is definitely my favorite. I'd love to get more involved in it but there's not much emphasis on it outside of Dublin.
What is your greatest achievement in kayaking?
Probably becoming Captain of the club while I was in 2nd year. As far as I know, I'm the only 2nd year ever to be Captain of ULKC but I felt ready for it so I went for it. I hope I did the position justice. Helping the club win 6 in a row is also high up on the list.
What was it like being captain of ULKC?
I knew from the outset it'd be difficult but a lot of other factors came into play over the year that made it harder. Having a lot of my committee away for large periods of my term (2 on co-op, 2 on teaching practice, 2 working full time, 1 on Erasmus and 2 others tackling 4th year) meant that a lot of jobs that would usually be delegated had to be done by me alone. I'm in 3rd year Applied Physics too so had to try and strike a balance between committee work and college work.
Probably the most difficult thing over the year was doing all of the work in the background that nobody ever sees. Whether it be sending reams of emails, meetings, organizing events, pool sessions, transporting people and boats, inter-club relations…the list is endless. I learned that it's a position that you have to put everyone ahead of yourself and put other peoples' wellbeing ahead of yours no matter what. They may not realize it but I definitely had to sacrifice my fun so that others could enjoy themselves and I'm very glad I did. If the Captain doesn't do it, nobody will.
What was your role as captain?
I was the overseer of the club and I basically had to make sure whatever jobs needed to get done, were done. Whether that be by myself or someone else, they had to be done. As I said, I was low on committee members for a lot of the year so I had more stuff on my plate than I had expected. Definitely didn't paddle as much as I had hoped but as I mentioned above, a balance had to be struck with college!
Was it a hard job to do?
Very. But it was all really worth it!
What is the social aspect of the club like?
We pride ourselves on being more than just a kayaking club. We go on nights out and have house parties together. To be honest, you could put me on the worlds' most boring flat section of river but once I had some of the friends that I've made in this club on the water with me, I'd have the time of my life. Yes, the club goes to amazing places and yes, we are completely spoiled by our facilities and equipment, but it is the people in the club who make it what it is. It's all of them that make it fun.
ULKC is one of the largest clubs in the University, what do you think makes it so popular?
Probably the Alps trip. It's the first words from the lips of every first year and international student that joins in September. It's the trip everyone wants to go to and it's definitely our flagship in terms of publicity and attracting new members. We try to do as many week to week activities as possible to keep things ticking over between our big weekend trips away and we try to add variety in terms of different destinations and set ups.
We've always tried to train up anyone who is remotely interested. I think one lure of kayaking is that you can never master it. There is always something to learn. When you join in first year, you'll still be progressing in 4th year (between the floods of FYP tears). I think the constant ascent of the ladder and adding new skills to your arsenal attracts as lot of people who like to learn.
What was the training regime like leading up to the intervarsities?
To be honest, there wasn't much of one! High water levels on the River Shannon meant that our long distance training was very limited and really only started 2 weeks before the event. We had however been putting in a lot of time training for canoe polo since October. As a result of that we came 3rd in polo which was one of our highest placing's ever.
Having won 5 consecutive varsities, did you feel that there a lot of extra pressure on you as the captain compared to the captains of earlier years to make sure the club won a 6th varsities in a row?
Yep absolutely. I knew before Varsities 2014 that I had gotten the captaincy for the coming year. And ever since the moment we were announced as winners, I was dreading Varsities 2015. Very few people mentioned it to me over the year but I certainly worried about it a lot and I didn't want to be the one that ended the run. When we won this year, there was less happiness and more relief.
What advice would you give to Jack as the new captain of the club?
Do your college work! I know he won't because he never does but getting the balance right is a difficult thing. It's a position that can consume you and take 100% of your time. It's definitely plausible to take a year out and commit completely to the captaincy for the year because of the sheer amount of work there is in it but I could never see anyone doing that. It's important to try and enjoy it even when the going gets tough. It won't all go to plan but you have to get on with it!
If you could pick one picture to sum up ULKC, what would it be?