By James Roulston Mooney
The rapper and producer rose to prominence with his debut mixtape The Come Up before becoming the first artist to sign with Jay-Z's Roc Nation label in 2009, with two more mixtapes, five platinum-certified albums and multiple EPs yet to come.
With five nominations across four categories in the 62nd Annual Grammy Awards, the most he has received in a single year, Cole was finally in line to win his first Grammy, earning the accolade for Best Rap Song with his feature on 21 Savage's A Lot. Cole had previously won numerous awards for his work but never a Grammy.
But how did he get to this moment? How did a young man from Fayetteville, North Carolina persevere in what has become a different game to the one his idols were at the top of?
Initially, the North Carolina rapper went by the names Blaza and Therapist before settling on J. Cole, the latter being given to him by a local group with an equally strong name, Bomb Sheltuh.
Cole attended college at New York St. John's University before achieving his dream. He graduated Magna cum Laude with a major in communication and a minor in business. During his degree, Cole was writing full-time and rapping on the side.
Cole worked hard to make a name for himself, even creating his own record label with his manager, called Dreamville Records, so that he could have a means of distributing his work. Since its creation, Cole has gone from strength to strength as an artist and producer, while also helping young artists reach the spotlight.
It should also be noted that Cole, as well as helping other artists to grow, has never forgotten his roots. The Fayetteville native often raps about his hometown using different monikers like "Fayettenam" (much like Chicago natives may call their city 'Chiraq') and sometimes incorporating its name into song titles – 'Villuminati' for example, the lead track of 2013's Born Sinner.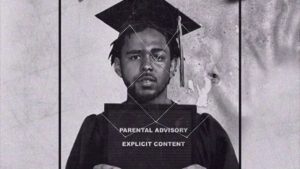 After a failed attempt to share a CD of his mixtape with Jay-Z, the media mogul's then-new record label came calling, making Cole their first signing.
Cole reminds us throughout his early work that all he needed was a Dollar and A Dream to make it, as well as some self-confidence along the way.
The artist talks of this mentality in three different songs, with the first being part of his debut mixtape and the final part being the second track on his first studio album Cole World: The Sideline Story, succeeding only his short introduction.
In these three tracks, Cole details his struggle to make it in the rap game. He is, however, confident he will achieve his goal and fulfil his dream throughout the album.
Cole brings up controversial topics during Cole World such as racial profiling and police corruption but is always quick to remind the listener that all he was concerned about was his dream.
With other themes such as abortion and growing up without a father appearing on his debut studio album, Cole continued the pattern of personal and topical lyrics, which has become a constant factor in his records.
Cole World sold over 218,000 copies in its first week on store shelves, exceeding label expectations and debuting at number one on the US Billboard 200 chart. As of December 2016, 855,000 copies of the album have been sold in the States, according to nielsen.com.
It may be worth mentioning that Cole was not a nobody on the rap scene at the time of Cole World's release. Having been Roc Nation's first signing which earned him some exposure, he was also part of a short-lived rap supergroup in 2010, the 10-strong All City Chess Club, working with the likes of B.o.B., Lupe Fiasco and Wale in the supergroup.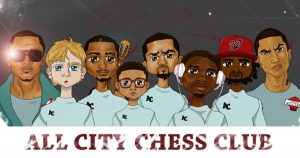 The contingent of rappers only ever released one song together – I'm Beamin' (Remix) – which J Cole doesn't feature on. The collective has not collaborated a second time and there has been no news of a revival since.
Cole followed up the success of his debut studio album with two EPs, Truly Yours and Truly Yours 2, both released in anticipation of his sophomore studio album, Born Sinner.
The EPs included tracks that Cole made but did not include on any of his releases. J. Cole stated on his website and social media that he wanted to gift his fans these unreleased songs because "[they] deserve them."
When Born Sinner finally released on June 18 2013, fans were more than content with the amount of J. Cole material they were getting. The rapper's sophomore studio effort reached similar levels of success as Cole World, debuting at number 2 0n the States' Billboard 200 chart (reaching number 1 in its third week) and selling 297,000 in its opening week.
The album touches on the themes of power, money and love, and how Cole has struggled to overcome these throughout his life and his then budding career.
It also includes a song about how J. Cole let one of his idols down – the legendary Nas. Nas, universally renowned as one of the best rappers ever, apparently heard J. Cole's second single for Cole World, Work Out, on the radio and was disappointed with the song's lyrics. Work Out went platinum by targeting the pop charts.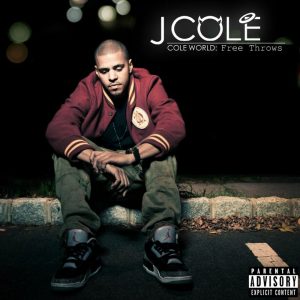 No I.D., who Cole describes as his "mentor" on the suitably named Let Nas Down, was in the same room when the comment was said to have been made and told Cole of the rap icon's thoughts. Cole, who referenced Nas' classic album Illmatic with the name of his Friday Night Lights track Villematic, took these words to heart and decided to release a track about it.
In doing so, Cole connects with his fans on a personal level yet again, with the track normalising his celebrity status as he repeatedly laments how one of the artists he looked up to was not impressed by his 2x Platinum certified single.
Attendees at Cole's show on his 29th birthday in 2014 were given a flyer announcing Dreamville made a deal with Interscope records and the release of a Dreamville mixtape, the start of an ongoing series of mixtapes that he co-produces.
The mixtape Revenge of the Dreamers served as an introduction for fans to the Dreamville crew and spawned two spawned two sequels, the Dreamville roster growing with each release.
At the end of that year, J. Cole released 2014 Forest Hills Drive, named after his childhood home in Fayetteville. Cole, after being born in a German military base in Frankfurt, lived with his mother, brother and stepfather at the address until 2003. Cole bought the house back previous to releasing the album and currently houses single mothers rent-free in it.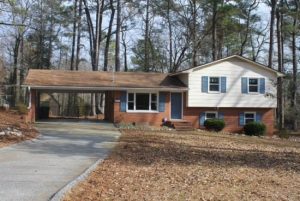 The album which is seen by many as the record that launched J. Cole into the stratosphere of the modern rap game. The Grammys, which had then previously nominated him twice, took notice of this and gave Cole three nominations for his newest release, including one for Best Rap Album and a Best Rap Performance nod for Apparently.
The album helped J. Cole exceed the projected figures by more than 100,000 copies, selling 353,000 physical copies in the first week and 371,000 overall units. The hit record also made records, breaking Spotify's album streaming record with 15.7 million streams in its first week.
On March 31 2015, Cole's third studio release became the first album in 25 years to go platinum without any features. The album is now Triple Platinum, as of May 23 2019.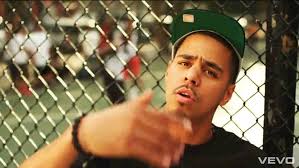 The album's third track, Wet Dreamz, is one of the many examples of why the album was so successful, showcasing a very relaxing beat, along with his usual clever lyricism to tell a story in a smart and, at times, funny way.
The song also sums up Jermaine Lamarr Cole's approach to music – he is eager to develop a personal bond with his fans and so lets his charisma and personality seep into every aspect of his work. Cole is known to interact with his audience during concerts, regularly telling stories to the many fans who attend, looking up in awe at him, giving him their full attention and returning the courtesy and intimacy he provides them through these monologues by singing along with the rapper every night.
After the huge success of his third solo studio album, J Cole went to work with Dreamville again, with the artists releasing Revenge of the Dreamers II on December 8 2016. The second mixtape for the label's artists showcased an expanded roster with J Cole taking a backseat once again to let the lesser-known artists on the roster take centre-stage.
Cole surprised fans by releasing 4 Your Eyez Only on 9 December 2016, exactly two years after his previous work hit store shelves.
He had been working on the album since 2014, recording it over a span of two years.
The album was a surprise to fans as Cole had hinted at retirement in a feature on DJ Khaled's track Jermaine's Interlude and had also claimed during a performance in October of that year that it would be his "last show for a very long time."
However, this proved to be smoke and mirrors as the album appeared for pre-order on iTunes on December 1 2016, without prior announcement.
Cole's fourth studio album became his fourth number 1, debuting at the top of the US Billboard 200 chart.
The album went Platinum, marking the second time the North Carolina rapper had a platinum record with no features.
The album tells the story of a murdered friend of Cole's, given the name James McMillan for the album.
In a 2017 New York Times interview, Cole revealed that the character is based on two men he grew up with in Fayetteville. The theme of love, although evident in every album, mixtape and EP Cole has released thus far, is most prominent in his 2016 release.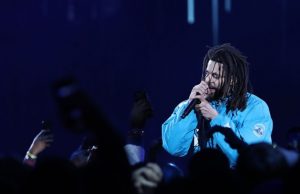 The beautifully written She's Mine Pt. 1 and Pt. 2, as well as the upbeat Foldin Clothes show the love that McMillan and Cole have for their loved ones.The closing track, which shares the album's name, reveals that the album is solely for McMillan's daughter to hear, for her only. It exists for her to remember her father by – "Play this tape for my daughter and let her know my life is on it."
Last week J. Cole revealed the reason why the album is from a different perspective than his. At New York City's MLK Now event, Cole spoke of how he was "tired of rapping about [himself]" and how he felt inspired to use his platform after reading 'The New Jim Crow: Mass Incarceration in the Age of Colorblindness' by Michelle Alexander. On the album's tour, Cole performed while wearing a prison jumpsuit and was escorted by 'police' to the stage.
In 2018, Cole released his fifth and most recent studio album, KOD. The album became Cole's fifth Billboard 200 number 1 in a row, also topping the charts here in Ireland.
The album's title has three meanings – Kids On Drugs, King OverDosed and Kill Our Demons. The kids on drugs are believed to be up-and-coming rappers who use drugs and seem to paint them in a positive light. King OverDosed refers to J. Cole himself and his troubles with addictions "whether it be alcohol, phone addiction, women…" Kill Our Demons is the simplest to explain – Cole encourages the listener to overcome the demons that haunt them.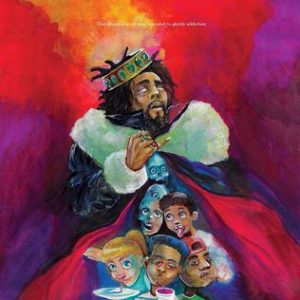 J Cole creates an alter ego, KiLL Edward, to help make his anti-drug message clear. Edward is an addict, changed by the drugs he uses. Cole uses Edward as an example to try and deter people from these harmful substances.
The words "Choose wisely" are repeated throughout the album, staying on the mind of the listener throughout the 12 tracks.
Cole talks about his own addiction in ATM, speaking of how he couldn't get enough of money. The words "Count it up" are used 54 times over the course of the song but the line "Can't take it home when you die" proves the strongest, with Cole telling us it has no worth when we die, so why worry about it now?
The final track, 1985, occurs after the outro. J. Cole warns the upcoming rappers in a changed rap game of the dangers of their drug use and actions, justifying its place at the end of the album.
Fans will hear 1985 again as it will also be the intro to Cole's upcoming sixth studio album, titled The Fall Off. Cole is expected to release a mixtape The Off-Season, having already released its lead track – Album of the Year (Freestyle) – which samples Nas' Oochie Wally and again mentions "Lil'" rappers.
Cole helped write and appeared on Young Thug's The London, the lead single of Thug's debut studio album, So Much Fun, which he worked as executive producer on. The track earned Cole one of the five Grammy nods in this year's Grammy awards.
Most recently, Cole released a third Dreamville mixtape last July, having recorded most of it with fellow Dreamville artists over a 10-day span in January. The album debuted atop the US Billboard 200, giving Dreamville their first number one.
The compilation proved to be the best one yet, garnering general praise from many and earning Cole and the Dreamville crew three Grammy nominations.
However, his work with 21 Savage on the London-born rapper's hit single, A Lot, proved to be the nomination that broke Cole's duck.
Now, J. Cole has won a Grammy, with two solo projects in the pipeline at possibly the height of his career. The floodgates may have opened at a pivotal moment.
It's been a long time since a teenage Jermaine was writing his first rap songs in his room on 2014's Forest Hills Drive.