Lana Del Rey is a pop culture enigma who shrouds herself in references to vintage Americana, vulnerability and controversy.
Diehard Lana fans like myself broached the onset of her eight studio album with uncertainty.
The American singer is no stranger to pushing back release dates with Norman Fucking Rockwell's wait delayed for months, agonising for fans desperate for more lovelorn tunes.
Another factor was Del Rey's last album appeared to be void of what was quintessential Lana: experimental, daring and unique.
Earlier this year, the release of Chemtrails Over the Country Club saw her morph into every other alternative star of the last decade and she had even turned to sample her own music.
It appeared the ideas had finally run dry after a decade of productive pop production.
Had Lana Del Rey had fallen into an alternative singer's graveyard- stale, similar and produced by Jack Antonoff?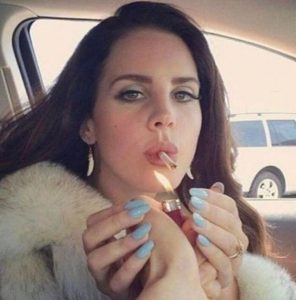 The first three singles for Blue Banisters were released inconspicuously with little fuss. It was also overshadowed by the singer's mesh mask, misjudged comments on privilege and later the deletion of all her social media platforms.
The singles were unsuspecting due to their horrific cover art design that emulated a four-year-old's discovery of  PicsArt. Who could have known that from these visual disasters would emerge Del Rey's strongest album yet?
There was a clue in one of the singles, Text Book.
Providing a modern Morricone-esque epic married with careful introspective lyrics, it marked her glamorous return, now with a more refined edge.
Blue Banisters sees Del Rey break from her recent production routine, returning to her older collaborators such as Barry O'Neill and revisits her side-lined collaboration with Miles Cane and Alex Turner.
From this union emerges Dealer, a fresh and bluesy damsel-in-distress track so strong it makes you wonder how their project was ever disregarded.
The singer is no stranger to leaving perfect singles behind. Del Rey stans will be familiar with the myriad of unreleased songs that have been leaked online over the years.
Sometimes their quality such as Fine China overshadows the tracks included in official albums.
In Blue Banisters, the songstress reclaims some of her fan's illegal fallen favourites such as The Colour Blue and Cherry Blossom. The recycling risk pays off.  They stand as the greatest elements of the record.
While all her albums have redeemable qualities , Del Rey has finally become certain of her flairs without the gimmicks.
Earlier this year she released Chemtrails over the Country Club. While it was lyrically daring, it overall fell flat as a tired, blunt attempt to secure her legacy as the next Joni Mitchell.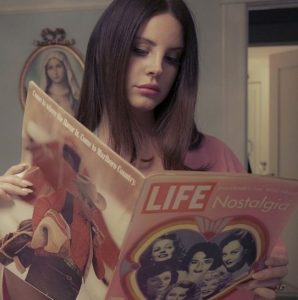 Perhaps fearing she had lost all momentum, Banisters is a combination of new ideas and old projects that overshadows recent creative misjudgements.
Almost a decade ago, she exploded onto the music scene with the alternative phenomenon Born To Die that has been sending teenagers into orbit ever since.
Few people are familiar with the Del Rey that preceded this shimmering debut in the form of the younger, blonde Lizzy Grant. The songs from this era are defined by their experimental production, striking lyrics and sparce accompaniment.
Despite their absence from streaming platforms, songs such as Pawn Shop Blues, Afraid and Ocean have been steadily gathering momentum online as her strongest works.
Lana returns to this unique formula with her howling, ethereal vocals and daring subject matters, void of the stiff, laboured production that has characterised her most recent albums.
Perhaps freeing herself from the shackles of social media has allowed her to find her most authentic self. In 2017, Lust for Life was Del Rey conceding to her cliches, with the majority of songs bland and forgettable despite collaborations with big names like Stevie Nicks and The Weeknd.
Blue Banisters has harnessed her distinctive range accompanied by poetic lyrics, while still keeping her experimental edge. Black Bathing Suit has the same tempo change that made West Coast iconic, with lyrics displaying older candour and creativity:
"Cause my body is my temple, my heart is one, too
The only thing that still fits me is this black bathing suit"
Her collaborators harness her constructed Old Hollywood image and elevate the songs into a fresh experiment that leaves her previous releases in the dust.
Blue Banisters looks 2019's brilliant Norman Fucking Rockwell in the eyes and matches the epic successes while narrowly avoiding its downfalls.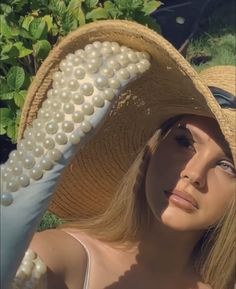 There is no filler in this fifteen-song record, unlike her other albums that always contain a few throwaway works playing up to her famous Lolita-inspired cliches.
There is also a nod to Ultraviolence, the gothic sophomore album's legacy with gangster Nancy Sinatra beats evident in the impressive Interlude- The Trio.  This much-needed revisit to a darker, haunting second album is effective as now production quality and lyrical maturity are on her side.
However, Del Rey does not free herself fully from the shackles of her stereotypes and still references her distinctive preference for moneyed older men, but a decade of music-making behind her now reads as candid self-awareness.
Despite the lack of promotion, this album is destined to achieve Lana's desire to secure her legacy as a skilled songstress.
By taking the best elements of her previous endeavours, she has created an allusive album that is her best record yet.
Blue Banisters is the conclusion her other albums failed to reach.
Fans will forgive the lack of marketing, social media mishaps and even the hopeless single cover art. It could  add to her appeal.  Mystery suits her.