On Sunday 18th of November, #LiveableLimerick in conjunction with LCCC will organise a series of charity Christmas Dashes on O'Connell Street fully open to the public to continue demonstrating the streets of Limerick can play host not just to cars but to fun participatory inclusive events.
The event will take place from noon during the afternoon before the Light Up Limerick celebration, which officially marks the beginning of the Christmas period in the city.  
A nominal entry fee of €2 is requested with all proceeds of the fun runs split between two homeless services, Novas and the Peter McVerry Trust, both of whom have offices on O'Connell Street.
The main thoroughfare in the city will be closed to traffic for the day which helps accommodate the participants from noon on a running track of some 100m on the street itself.  As diversity and inclusion are core values of #liveablelimerick's vision for our city, a wide range of races and participants are planned, including a parent and toddler race, races for our young children and our young at heart seniors, a Mr. & Mrs. Claus race, a wheelchair dash and a Christmas jumper sack race for students of Limerick's second and third level schools and colleges .
This is all about having fun and so participants are asked to bring not just their running shoes but also to dress up in Christmas costume to add to the festive atmosphere.  
John Moran, Chair of #LiveableLimerick commented "At #liveablelimerick we strongly believe that our public realm which includes our streets too belongs to all.  It should and can host more varied and fun events which the public will actively support. This was demonstrated last year for the lighting up ceremony and by the success of our own StreetFeast over the summer on Catherine Street.  Now is the time to come out yet again to continue to change minds about new roles our streets can play in our rapidly evolving city.   Only with everyone's participation do we earn the right to demand even more each year.
Moran also highlighted the added bonus, being that participation in the event will generate "much needed funds for two great organisations working hard especially this Christmas period."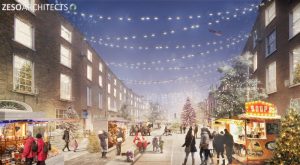 Registration will take place from 11am at the offices of Novas, at no. 89 and #liveablelimerick volunteers will be available on the day for queries.   Places are limited so early registration is recommended.
A number of leading businesses are also helping to organise and sponsor individual races.  But all help is welcomed even on the day to make this event a success.
For further information on the event please check out www.liveablelimerick.com or send an email to xmasdash@liveablelimerick.com.
Further background and commentary
#LiveableLimerick is a social movement of volunteers who love their city and want to bring about change to make it more liveable.   #liveablelimerick is ABOUT a community coming together for public fun events or campaigns and engaging under five key values, (i) Long term Ambition (Creating a long term ambitious vision for a greener and cleaner Limerick and successful Mid-West region), (ii) Desirability and Fun (Making Limerick city centre the most desirable, safe and fun place to live, work, shop and visit), (iii) Inclusion (Cherishing and engaging all communities old and new, urban and rural, people of all ages and abilities), (iv) People Focused (Designing best-in-class public realm and urban mobility strategies for all who use our city not just those who drive in cars) and (v) Valuing our Heritage (Enjoying our world class built heritage and protecting it for future generations).  
Novas are the largest providers of homeless services in Limerick. In the city they provide a range of services including homeless accommodation, long-term housing, Housing First, Street Outreach and an Intensive Family Support service. Last year the organisation worked with more than 4,500 people nationally. In Limerick its family service worked with 176 families with 450 children who were homeless or at risk of homelessness. Its Street Outreach service operates 365 days a year and provided more than 11,000 hot meals to those most in need. Una Burns, Head of Policy and Communications with Novas said 'they were delighted to be a chosen charity for the inaugural Christmas Dash and all proceeds would go to their frontline services in the city.'
Peter McVerry Trust, the national housing and homeless charity, which opened its first regional office in Limerick two years ago, has been delivering a housing programme in Limerick helping provide pathways out of homelessness. With over 30 social housing units delivered so far the charity has helped house over 50 people and has plans to significantly increase its housing provision in Limerick in 2019. Francis Doherty, the Head of Communications for the charity said "We are delighted with the support the brilliant, fun fundraiser from #LiveableLimerick  and the funds raised will enable us to provide more housing and visiting supports to some of Limerick's most vulnerable residents. We'd like to thank all the organisers for choosing to help raise funds to tackle homelessness in their community."