By Christina Foley Ellis, Equestrian Club PRO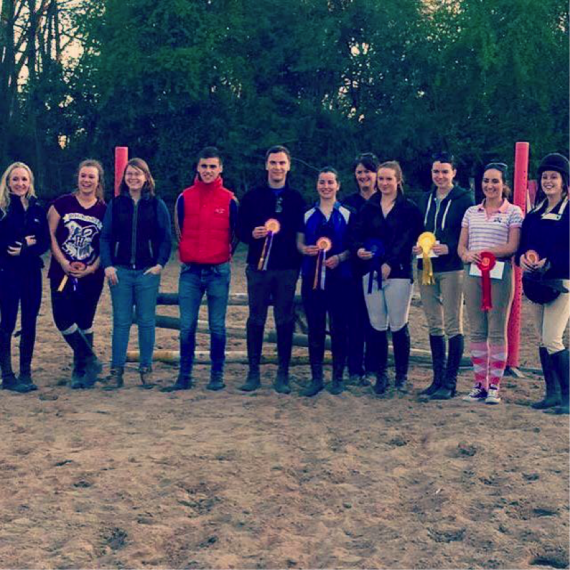 With the year halting to an end, UL Equestrian would like to thank all our committee, club members, advisors and sponsors that have contributed to one of our most successful years ever. We began the year on a high with the annual tetrathalon competition, hosted by none other than ourselves, in Ennis. For those who don't know what TET is, it's a competition spread over an entire weekend, which includes running, swimming, shooting and show jumping. Not only did we successfully organise the entire weekend with 14 colleges (and over 20 teams) in attendance, our team of Patrick Duggan, Brigitte Murphy, Kate Costello and Luke Sutherland also managed to secure 1st prize overall. We even managed to pick up a few individual prizes – Caitríona Conry for equitation, Brigitte Murphy for shooting and Luke Sutherland for swimming to name a few. A great effort was made by all UL competitors and we'd like to make a special shout out to then chairperson, Paul McDermott, for single-handedly pulling off an outstanding weekend!
Our success continued into the second semester with 20 members heading to Cork for the National Equestrian Intervarsity in February. We may not have been hosting, but that did not stop us cleaning up! With a team coming 2nd in show jumping (Amy Maloney, Kirsten McCormack and Laura Conners), 5th in the teams section (Paul McDermott, Aoife Leonard and Kate Costello), 1st in dressage (Brigitte Murphy, Shannon Pratt and Susan Hayes), 3rd in prix caprilli (Amy Doran, Killian Costello and Cliodhna McLoughlin) as well as Ian Foster coming in 3rd place overall, it was enough for UL to be crowned Overall Intervarsity Champions!!
Running on excitement and adrenaline after winning two national events UL Equestrian Club then organised a successful Race Night in the Stables in week 9. With the funds from the races, games and the live auctioning of some of our lovely lucky members, we organised and hosted our first internal show jumping competition in week 12 in Lough Derg Equestrian Centre. With the stress of exams mounting, the chance to get away for a change of scenery was much appreciated by all involved, and with great prizes up for grabs and the bus and food paid for by the club it was truly an event not to be missed! It was such a success, the committee have vowed to make it an annual event. Congratulations to Helena Hoedt, Rachel Mullins and Amy Forde who came in at first, second and third with more prizes given on the day for equitation and double clear rounds.
After a brilliant year, we're determined to make next year bigger and better. Subsidised buses to the lessons, a weekend trek, a trip to Coolmore and a show jumping league are on the cards. Of course, we'll need new faces to help defend our title at TET and Varsities and keen enthusiasts to fill position on the new proposed subcommittee, so be sure to catch us at the recruitment drive next semester. Watch this space … or our FB page… or Twitter… or our Instagram… or our Snapchat to keep up to date! Good luck with the exams guys and we'll see ye all refreshed and ready next semester.