A Journalism and New Media student at UL was invited to the Late Late show after an article he wrote for An Focal in response to Peter Casey.
Martin Mongan, a member of the Travelling community, responded to Peter Casey's controversial comments in the piece.
Within the article, the UL student says he was "disappointed but not surprised" at Casey's remarks.
"I have witnessed both discrimination of Travellers by the settled community and the exploitation of the settled community by the Travelling community first hand," he said.
"I respect the fact that people have had negative moments from the settled community and with members of my community."
"I've also had to deal with negative attitudes from the settled community in Irish society, but like my community, I know the bad eggs are the minority."
The Ballinasloe native said he was compelled to write the piece on Casey because "I personally felt disrespected and marginalised by his comments."
He wanted a platform to share his views and receive reactions and said he knew he had one with the college paper.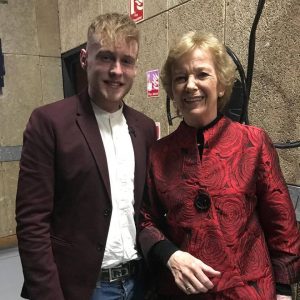 Martin was unnerved by the high number of votes Casey received in the Presidential election noting  "it showed that there is a clear divide between the travelling community and the settled community."
The UL student said it was exhilarating but frustrating confronting Casey in person, but it made him feel proud and thankful his voice was heard.  

"The fact that Casey didn't give a single straight answer to any question asked was frustrating."
Martin said it would be stereotyping to assume that all of Casey's voters voted for him based on his views of the travelling community but naive to believe it wasn't a factor.
"He wouldn't have jumped from 1% of the votes to 23% within a week if he didn't voice those comments," he said.