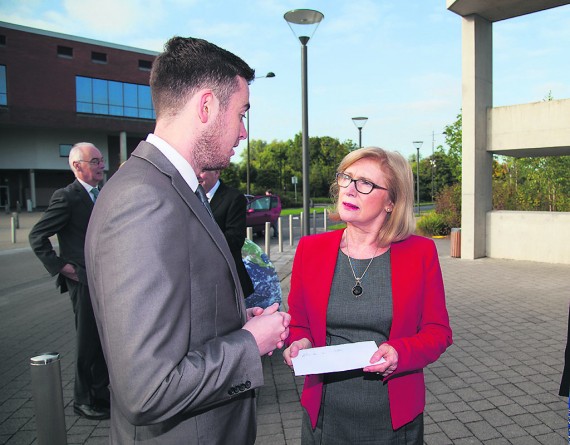 By Tomás Heneghan
The University of Limerick Students' Union sabbatical officers have presented Minister for Education, Jan O'Sullivan with a letter detailing the Union's concerns over the underfunding of mental health services in Irish universities.
ULSU president, Colin Clarke presented the letter to Minister O'Sullivan when she visited UL a week and a half ago to launch the university's Strategic Plan – Broadening Horizons 2015-2019.
Speaking to An Focal, Mr. Clarke said the Minister welcomed the letter. He explained: "I don't think she realised just how bad the problem is but when we explained she was very much surprised – the three or four week waiting service for the counselling department, she didn't expect that."
The letter said the current system of university mental health services was "underfunded, inadequate and struggling to cope with the increased usage of their vital services."
It also pointed to a number of statistics relating to mental health services in Irish third level institutions, including:
The numbers attending for counselling in UL have almost doubled since 2008, with 940 students attending last year, without any increase in staffing.
There is significant waiting periods of up to four weeks for counselling appointments when the demand on services peak by the middle of the spring semester.
Currently only one counsellor is a UL employee, the remainder are sessional staff (five people part-time, term time only), Jobsbridge interns (five assistant psychologists)  trainee psychotherapists ( six ) and one volunteer psychotherapist.  In total providing 100 consultations per week during term time.
Submission for a new counselling post was rejected this year by the University.
There is not adequate cover available whenever the head of counselling is off campus or sick or on annual leave.
Mr. Clarke said that over the last couple of months the ULSU has been trying to lobby for the provision of better mental healthcare services on campus.
He explained: "We feel the counselling department is severely underfunded – we face waiting lists of up to three to four weeks mid-semester and we already think that that is unacceptable.
"The letter we gave to Jan was very much asking for collaboration between the HEA and HSE because nobody knows who's responsibility the funding for mental health services within third level institutions is and it's just really calling for Jan O'Sullivan and Leo Varadkar to seriously discuss and collaborate."
The letter was also presented on behalf of Postgraduate Students' Union president, Sean McKillen, ULSU Welfare Officer, Ciara Corcoran and ULSU Academic Officer, Marian O'Donnell.