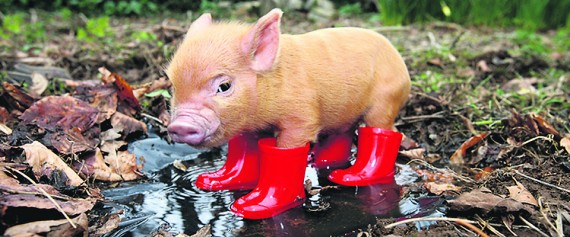 By Tomás Heneghan
The University of Limerick Students' Union (ULSU) is to begin hiring part-time micro-pigs from the beginning of next month.
It is expected the animals will work primarily around the main Students' Union building, however they will also take up a position delivering fortnightly editions of An Focal.
ULSU President, Colin Clarke said of the new job opening: "We're proud to be offering this historic opportunity to hard-working and dedicated micro-pigs. We're a growing university and union and we can't continue as we are.
"Those interested in just lazing around the SU all day should avoid applying. What we're looking for is hard-working lads, pigs who'll do their fair share and of course deliver the paper in a professional manner."
SU authorities have confirmed they will be taking on up to six micro-pigs and following a successful trial period, all six will likely be offered full-time contracts.
A number of sources, who did not wish to named, said there is also a general hope around the Union that a sleigh or carriage of some sort will also be invested in to make the work easier for the micro-pigs.
It is understood the Union hiring committee has already prepared staff t-shirts for the micro-pigs to distinguish them as "leading members of the university community"
A general warning will also be issued soon to all students and staff clarifying that the pigs are employees and should not be treated as pets.
A leaked report from the SU, seen by An Focal reporters, says: "Any student seen or reported petting, cooing over or picking up the new micro-pig employees will be subject to an on-the-spot fine of up to €500."
There are also preparations underway to create new "micro-pig crossings" around the off-campus housing estates to facilitate An Focal deliveries by the pigs.
Once introduced, the University of Limerick will be the first third-level institution and workplace in the country to include micro-pigs on its payroll.