On a Good Friday 1996, in a house on Kerry's road in Limerick, a group were gathered to view an episode of comedy that is now enshrined in the Irish psyche.
My father was part of that group as they previewed what many view as the greatest episode of a TV comedy in Irish history. The episode was 'A Song for Europe' from Channel 4's Father Ted.
My dad, Christopher Finnan was asked by a friend to come along to try out as an extra for a show that was being filmed at the same venue once used by Oscar Wilde, and The Cranberries.
Christopher tried out for wardrobe and having passed, he sat with other in the Theatre royal with a tape with a single track on it, so they could familiarize themselves with it. The track was 'My Lovely Horse,' and they sat there, listening to it over and over until the absurdity of the arrangement had worn off.
They began filming. Dermot Morgan and Ardal O'Hanlon appeared. The extras that stood and mimed behind Maurice O' Donoghue's Dick Byrne now took their role as the audience for My Lovely Horse's debut.
It took more than 30 takes until they got what they needed. The twenty-nine outtakes were of extras and the crew laughing and failing to keep a straight face with what was being filmed in front of them. It was, for my Dad at least, his introduction to Father Ted.
In my humble opinion, the show is unquestionably the unachievable benchmark of Irish comedy. Its legacy is sweet and concise, and therefore never ran at anything less than full steam.
Over the space of 25 episodes (including one Christmas special) the show's creators-Graham Linehan and Arthur Matthews were able to explore stereotypes of Irish culture; drink, the church, rural Ireland, competitions such as the Rose of Tralee or Eurovision, and even bring up Ireland's minor racial insensitivity.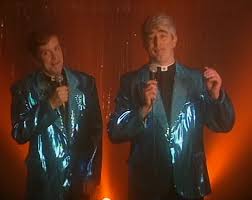 They portrayed life in a way that showed the clear absurdity of the time. Its accuracy was amplified by the fact RTE refused to greenlight it because of its humour at the Catholic Church's expense.
But exceptional writing means nothing for a TV show without equally exceptional deliverance.
The main cast of Dermot Morgon as Father Ted Crilly, Ardal O'Hanlon as Father Dougal McGuire, Pauline McLynn as Mrs. Doyle, and Frank Kelly as Father Jack Hackett are nothing less than iconic.
Each actor compliments the writing in such a harmonious way that none are remotely replaceable.
The supporting cast includes Patrick Drury and the late Rynagh O'Grady as battle-axe duo John and Mary. Jim Norton starred as the ruthless Bishop Brennan. A baby-faced Graham Norton wrecked heads as the annoying Father Noel and the nation's hero Tommy Tiernan as the depressed Father Kevin.
The list of exceptional supporting characters goes on and each talent adds to the excellence of an episode n their own unique way.
The unique nature of every episode allows for each different situation to be ripe with its own unique set of punchlines. From "down with this sort of thing." to the size of faraway cows, the staying power and memorability of each episode is almost unparalleled.
At the party, Christopher finally got to see himself as part of the magic. And what a scene was of an episode that encapsulates the touch of class that Father Ted was comedy at its finest.
Even after almost 25 years of being off the air, the deaths of main actors such as Dermot Morgan, Frank Kelly, and, very recently Rynagh O'Grady, their losses hit so close to home for so many people as another member that made the greatest Irish comedy of all time is now gone.
It is to the credit of each actor, crew member, and even the writers that they made such a beloved show that it continues to stand the test of time and be remembered and as relevant as when it first was viewed by my Dad and the extras twenty-five years ago.