Biden makes his first State of the Union address, Republicans dominate voter turnout in Texas primary election, and more than a million Ukrainians seek refuge amidst Russian invasion. Here are your top stories for Weekly America.
Biden makes his first State of the Union address to a concerned America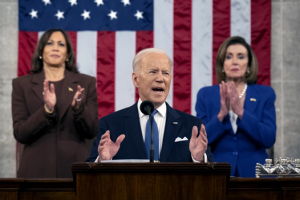 President Biden made his first State of the Union address to an anxious America, prioritizing Ukraine, inflation, and moving on from the pandemic.
Biden went into Tuesday's speech with the second-lowest approval rating of his presidency. Almost 54% of Americans disapprove of the Democratic president according to pollster FiveThirtyEight.
Ukraine was a top priority for Biden during his speech on Tuesday, spending 20 minutes on the conflict at the beginning of his address.
He stated: "From President Zelenskyy to every Ukrainian, their fearlessness, their courage, their determination, inspires the world."
Biden hailed the efforts of NATO and other Western countries for imposing strong sanctions on Russia in an effort to isolate Putin "from the world more than ever."
Economic concerns were addressed by Biden to the satisfaction of Democrats and bewilderment of Republicans. He recognized inflation hurting Americans saying: "so many families are living paycheck to paycheck, struggling to keep up with the rising cost of food, gas, housing, and so much more."
Biden praised his $1.9 trillion American Rescue Plan for helping the working class while hammering former president Donald Trump's tax cuts, claiming they only "benefitted the top 1%" and "ballooned the deficit."
In addition to the American Rescue Plan, Biden credited himself for overseeing 6.5 million jobs that were created last year, the most in US history. The economy also grew by 5.7% though CNN reports that such a claim needs further context to consider America's recovery from the pandemic.
To solve inflation, Biden made a divisive and arguably tone-deaf remark to businesspeople saying: "Lower your costs, not your wages."
Returning to normality post-Covid was one element of good news that Biden gave Americans on Tuesday. His announcement came after the Centers for Disease Control and Prevention eased Covid guidelines and Democratic states lifted vaccine and mask mandates.
Biden said: "Tonight, I can say we are moving forward safely, back to more normal routines."
Emphasizing to buy American, support infrastructure, and cut drug costs, Biden's speech was met with mostly positive results. CNN's instant polling revealed that 67% of viewers believe Biden's policies will move the country in the right direction.
Though Biden made other proposals in his speech such as raising the minimum wage to $15 an hour, these measures were quickly shot down with Senator Joe Manchin's (D-WV) declaration last month that such proposals were "dead" under the Build Back Better plan.
Biden concluded his speech with a hopeful message against the obstacles that face his presidency: "Now is our moment to meet and overcome the challenges of our time. And we will, as one people. One America."
Republicans trash Democratic turnout in Texas primary election
Republicans dominate voter turnout in the Texas primary election, pushing aside any hope for the Democrats to turn the southern state blue.
The Republicans thrashed the Democrats' turnout by more than 800,000 voters. Compared to the 2018 primary, Republicans increased their voter base by 25 per cent with around 388,000 new voters. For the Democrats, their base only increased by 15,000.
The election sends a worrying sign for Democrats who were hoping for a spike in support to suppress the Republican's momentum.
NBC News reports that with Republicans enjoying a "double-digit enthusiasm advantage" ahead of the mid-term elections this November, they are very likely to "end up making substantial gains."
In the Governor primaries, Beto O'Rourke won the nominee spot for the Democrats by a landslide, winning more than 93% of the vote. O'Rourke rose to fame sharply in 2018 as the only Democratic candidate to come close to defeating a Republican senator in decades.
However, the Democratic prospect was nowhere to be seen after an embarrassing performance in 2020 when he pulled out of the presidential primaries. But now, O'Rourke will hope to reclaim his fame by achieving victory in the gubernatorial election.
Although the race for Governor on the Republican side was more competitive, the incumbent Greg Abbott sealed his nominee spot with more than 1.2 million votes. Between himself and O'Rourke, the latest poll from Emerson College Polling gives Abbott a 7 per cent lead.
Progressives received good news from the primary elections despite the overall disappointment for the Democratic Party. A new far-left candidate will be added to their squad with another two Democrats heading towards runoff elections.
The first to win his race in a securely Democratic district is Greg Casar. Jasmine Crockett is expected to win her race after being short only 1.5 per cent from the 50-point threshold. The more important key race includes Jessica Cisneros who has a chance of defeating the more moderate Eddie Bernice Johnson.
Reid J. Epstein writes in The New York Times that these three "would bring new energy to the liberal wing of the House and to 'the Squad' of progressive Democrats."
Trump made a feature during the Texas primary election by endorsing 33 Republicans during their races. All have either won their race or are now going into a runoff election.
With Trump's endorsements seemingly influencing the election, other right-wing candidates may worry about the negative connotations that involves.
The Republican implosion at the Georgia runoff election in 2021 revealed how Trump's claim of a "rigged election" can cause disastrous turnout levels for Republicans.
Conservatives can only hope that Trump's influence will be a force for good as the mid-term elections loom closer.
More than a million Ukrainians seek refuge amidst Russian invasion
As Russian attacks on Ukraine intensify, more than one million Ukrainians are seeking refuge in European countries, according to the United Nations.
UNICEF reports that 500,000 of these refugees are children as they flee their homes amidst the rising conflict. Since the start of Russia's invasion, 17 children have been killed and another 30 injured. UNICEF fear that "the true number of child casualties is likely far higher."
Poland is the largest recipient of Ukrainian refugees, taking in more than half of those fleeing their country. Other nations helping Ukrainians include Hungary, Moldova, and Slovakia. Russia has also taken in more than 47,000 refugees so far.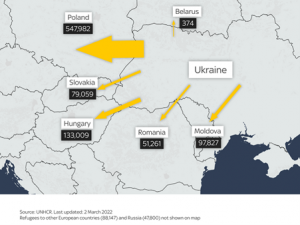 The number of Ukrainian civilian casualties from the war still remains uncertain. The United Nations Human Rights Monitoring Mission reports that around 750 civilians have been killed with the invasion heading into its second week.
Russia has taken over the key city of Kherson located in southern Ukraine. Joel Gunter from BBC explains that Kherson is important for the Russians as it could allow them "to create a base for the military there as it seeks to push further inland."
The mayor of Kherson announced that citizens are to maintain a strict 8 pm-to-6 am curfew and vehicles can only travel into the city for food and medicine deliveries.
Ukraine and Russia agreed to create humanitarian corridors to evacuate civilians from Ukraine during their second round of talks since the invasion.
Russia's main negotiator Vladimir Medinsky said following the talks: "The main question that we decided on today was the issue of saving people, civilians, who are in the zone of military clashes."
Russian President Vladimir Putin has told Germany that a third round of talks will take place with Ukraine during the weekend.