Michaela Keating
White jeans are an essential staple piece for spring / summer this year. They are so versatile and work for both day and night.  I've compiled a few looks that are easy to achieve with a few pieces you'll already have in your wardrobe!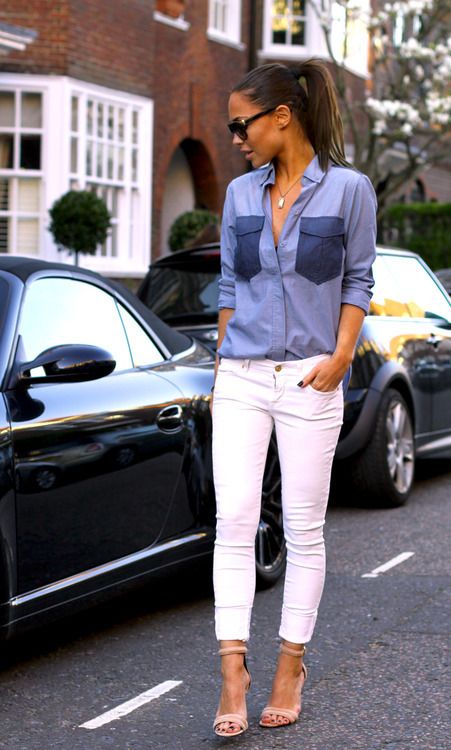 DAY
Stripes
Stripes are a classic and whether they are are navy or black they will look perfect with white jeans for a casual day look. Horizontal stripes will create the nautical look that becomes a trend every summer, while vertical stripes will elongate those of us who are, well, vertically challenged.
Denim shirt
We all have a denim shirt that has saved us from possible outfit meltdowns in the mornings. Denim shirts are so handy, and teamed with white jeans they create a crisp look that's perfect for summer.
Chunky Knit
Realistically, living in Ireland in the summer months we won't get away without needing a jumper the odd day. Chunky knits are fab for throwing over a light top when the weather gets a bit chilly in the evenings.
NIGHT
Crop it

You know it's summer when you're whipping out the crop tops! With whit jeans being so versatile, anything goes so every colour will create a different look. Since it's summer, pastel shades like baby pink and blue, or nude tones will spruce up your jeans for a few drinks on a Saturday night.
Monochrome
In my opinion, you can't talk about white without mentioning black. Monochrome is a classic and will always make your outfit elegant. Everyone has a black top in their wardrobe whether it's a crop or a cami, either will work. Live life, love monochrome.
All white everything
This has become a massive trend in recent months and we can't see it going anywhere for the summer. All white is a risking one but looks so classy. Team with a pair of statement heels to add a splash of colour or design to the outfit. *Side note:  Stay away from the clumsy fiend with the red wine.