Singer-songwriter Declan O'Rourke has turned from writing lyrics to prose for his latest creative venture. 
Famed for his distinctive voice and musical abilities, his literary debut The Pawnbrokers Reward illuminates the darkest chapter of Irish history. 
Having previously explored the famine in his critically acclaimed song cycle Chronicles of the Great Irish Famine, the novel examines the events of that time through the town of Macroom. 
It was the recent lockdowns that provided O'Rourke with enough time to complete the book following fifteen years of creating music that has won over famous fans including Chris Rea, Ronnie Wood and Paul Brady. 
 "I just didn't want it to end, it was really, really a very gratifying experience." 
O'Rourke's interest in the famine was ignited twenty years ago upon learning his grandfather was born in a workhouse in 1916. 
Unaware of the historical context, he began to extensively research their origins with help from The Workhouses of Ireland by Joseph O'Connor. 
It was one account in particular that formed the basis of the novel.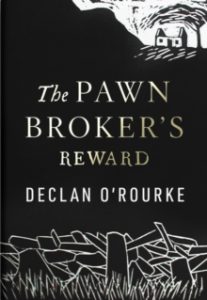 The book documented Pádraig and Cáit ua Buachalla who had lost both their children in the workhouse. After deciding to leave and return home, the two were found perished on the floor of their cottage six miles outside of Macroom. 
Their bodies were discovered with Cáit's feet held to her husband's chest, after spending his last waking moments trying to warm her.   
"It's heart-breaking but beautiful, and in a way I think it is a triumph of the spirit, even over the darkest of times," reflected O'Rourke. 
"The fact that he could still, with his last warmth and his last gesture, do something so beautiful like that, it's ultimately a beautiful story in spite of the tragedy."
All of the characters in the novel are based on real life figures based in the area of Macroom during the period. 
One prominent character is pawnbroker Cornelius Creed, who also worked as a correspondent for the local paper. 
His matter-of-fact functional reports of meetings of the Board of Guardians slowly morphed into passionate opinion pieces revealing more about his character and the events unfolding around him. 
Acting as the juncture between the working and upper classes, he provided a unique insight into the perspective of a middle class Catholic Ireland at that time. 
"He was much more privileged than the poor of course, but there was a cap on where they could go and he was trying to make a difference."
"But really any power that he had was very limited. He was a victim of the system as much as anyone else." 
A challenge of historical fiction is to strike the balance between accuracy and using creative license, a task the new novelist remedied through extensive research. 
Alongside retelling the real life events from the time, the book maintains a strong emotional element granted by placing himself in the character's perspective. 
"I did need to fill in a gap or join some parts or imagine how one of the characters felt, that's when your own experience of feelings comes into it. You are almost acting and being them and writing down what you feel through their eyes and that's the element when you are inventing." 
The Pawnbroker's Reward marks O'Rourke's entry into a new creative discipline. Before beginning his upcoming Irish tour next year, he is now attending literary festivals and engaging with the vibrant Irish writers community. 
Alongside his successful music endeavours, he now has plans to continue writing more prose after enjoying the experience of forming his  debut. 
"It helped me to erase some borders I put on myself, I feel liberated and I am very excited for the possibilities here on in." 
The famine remains ingrained in cultural memory and actively taught through the national school curriculum. 
This debut joins a host of other acclaimed literary works inspired by the historical event such as Star of the Sea by Joseph O'Connor and the classic children's series Under the Hawthorn Tree  by Marita Conlon McKenna. 
O'Rourke maintains the tragedy provides a relevant point in our past where we can learn from and apply to our present. 
"We are in a very interesting time in the world at the moment that has echoes of that time. I think it's not hard to see that and to see how easy things can fall apart. But really, what I hope people can learn from this story is what I did, and that is empathy."
"It's very important for us to keep these stories alive because they teach us empathy and they equip us to deal with similar situations in our own life and our own time."
The Pawnbrokers Reward published by Gill is out now. Declan O'Rourke will play Limerick's Lime Tree Theatre on March 18th 2022.