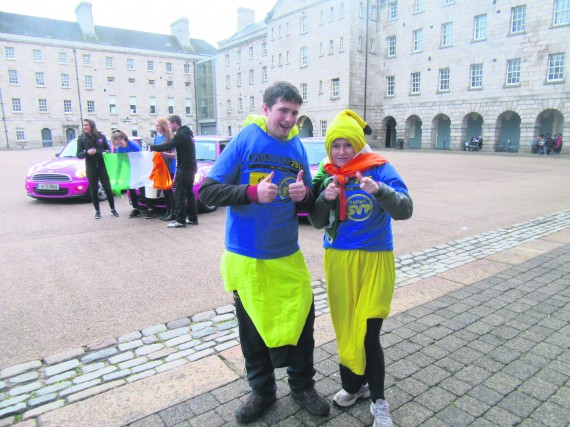 By Fay Langley
Hiking boots, multiple pairs of socks, energy sachets, a well needed map of Europe, a tin whistle, deodorant, An Ghaeilge stickers to spread the love, a pack of cards, a travel diary, a camera to document our madness, Irish flag, banana outfit and of course, 200 bananas sponsored by Fyffes Ireland. These were the contents of our backpacks for Team Banana (Dara Murphy and Fay Langley) for Jailbreak 2016. With 36 hours to get to Location X, the aim of the game was to blag our way across the globe, by bagging romantic bus rides, glorious train journeys, or simply anything we could get for free to venture through estranged countries. Of course, this was all in aid of two fantastic charities; Amnesty International and Saint Vincent de Paul which I can't stress enough how amazing the work they do is. Each team had a target of €400 to raise in aid of these charities and Jailbreak surpassed their suspected target of €50,000 and raised over a whopping €53,000.
Our adventure started off at Collin's Barracks at 9am sharp with a clue regarding where in the World we may have been heading towards! My team had 200 bananas to load off in order for us to hopefully gather donations for our travels and we ended up collecting well over a 100 euro in Dublin City alone. Clues were revealed every 2 hours which added to the thrill of the rat race! Kindly, Dublin Bus let us ride out to Dublin Airport for free to catch our flight to Bremen in Germany which was generously sponsored by Cape Clear Ferries. We made it to central Europe, therefore things were looking up for us and we decided to team up with 3 other teams who also flew on the same flight as us. We divided the cost of a train to Hamburg where we were accompanied by a lovely German guy called Melvin who basically served as a tour guide, a translator and who also played the ukulele.
We finally had to part ways with Melvin and had to vouch for ourselves and made a consecutive decision to head towards Berlin as it had been finally revealed to us that Warsaw was Location Y. We had many encounters with German passengers on the trains jamming along with us and our ukuleles, taking videos and photos of us and even threw us a few euro here and there. We finally made it to the boarder of Germany and Poland to a town called Cottbus where things were looking hairy for a while; limited German to communicate with others, arrived at 3:30am without a soul about the place, funds looking pretty low to cater for our travel to Warsaw, no sleep for a solid 32 hours and limited energy or motivation..
Although, despite all, we made it to Warsaw with the help of the ever so kind German police who donated money to us and also sorted our train tickets out for us! At this stage, we were all drunk with fatigue, we were hungry, we were lacking motivation but we had finally been told that Kraków was the final Location X AND we were told that we were in 3rd place. At 7:30pm on Sunday the 21st of February, we had finally arrived at Kraków train station with such a feeling of pride and accomplishment.
Unfortunately, we were finally placed at 15th overall however, we were all ever so proud of our efforts and our outstanding team work skills that had been combusted at last minute with the other teams we had alliance with! We all travelled to Kraków without using any of our own funds which is absolutely amazing and highlights the utter generosity of people in today's world although that said, we all had to make our own ways home. We decided to milk out the experience in the cheapest as possible way by catching a bus to Prague for €16 to roam the gorgeous city, then by heading onto Eindhoven in Netherlands for €19 by plane, spending a night in a rustic hostel and then back home for €43 by flight.
9 trains, 6 buses, 3 flights and we were finally home! I honestly won't know how it feels to not sleep on public transport to substitute for a bed! Best craic and best experience ever. I implore any one to go out and do Jailbreak.