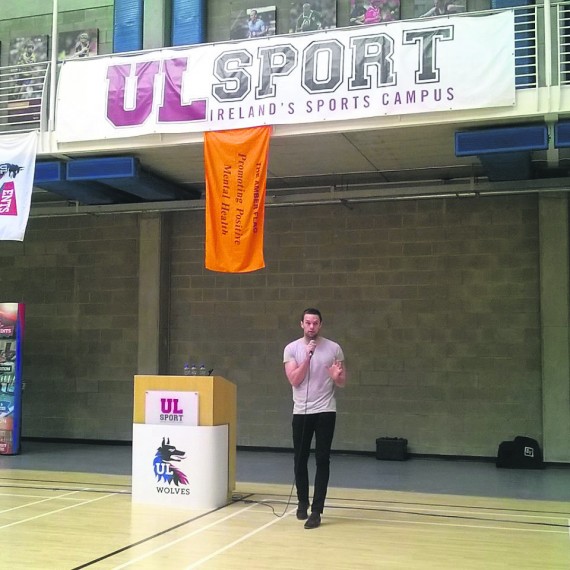 By Eilís Walsh
The 5th of April saw roughly 250 people (mostly young women) into the bleachers which were set up in the UL arena to listen to Niall Breslin (known widely as Bressie) speak about mental health as part of "Breakfast with Bressie". The event was organized by Ciara Corcoran, ULSU's Welfare officer as part of Week 10's Mental Health Week. I myself bumped into him in the UL Arena bathrooms and was struck at how tall and also NERVOUS he looked pre-speech.
Bressie didn't hold back throughout the two hour long speech he gave us; in fact he may have overshared, but it was beneficial. He spoke to us about the government's lack of interest in solving Irish youth's mental health problems, stating "The government treat us like shit", with the musician and former Leinster Rugby player stating that he had "no faith in the government". To an enthralled audience he began talking about his mental health journey, revealing that he began suffering from mental illness at the young age of 13. In relation to his crippling panic attacks, which rendered him terrified to go to bed at night he confessed thinking that he was "possessed by the devil" and said that during a panic attack that "every cell in your body believes you're dying".
Bressie went on to talk about the ways he attempted to combat his ill mental health at first: by playing a multitude of sports, taking numerous Xanax (sleeping pills) and even confessed to breaking his own arm to escape his inner demons. The stigma of mental health in the media was touched on with him saying "the media will tell you it's a weakness, it's dangerous". He told the students that he quit rugby because his panic attacks were getting too much for him. Surprising to us all, Bressie disclosed that when he first began working on The Voice of Ireland he was going into work highly drugged with sleeping pills. All of this was linked to his ill mental health and he also stated that self -medicating, self-harm and being emotionless was all part of being mentally unwell and that he certainly wasn't alone in taking those steps to attempt to control it.
As well as talking about his journey, Bressie coached us on positive psychology and training your mind to be positive. He gave the students a five step programme which, if practiced consistently and with concentration could make a huge positive impact on someone's mental health. He explained how his fight against his depression (named Jeffrey) took a surprising turn after one night he spent the entire night running. He strongly encouraged students suffering from ill mental health to avoid taking anti-depressants if at all possible and to instead adopt a regime of exercises, cognitive behavioural therapy, positive psychology and counselling. In a firm voice Bressie told students to "limit toxic people and environments" and also to "stop judging people".
Bressie was a perfect mixture of serious and funny, getting straight to the point on what he wanted to tell us. From talking to other students there was a strong agreement that he really did seem to care about the students and tackling the huge stigma and lack of attention the government was giving to the problem. A powerful statement made by Bressie was that "emotion has to be normalised". There was so much to be learned and we are very honoured and thankful that Bressie agreed to speak to UL students on something that needs to be talked about more often.