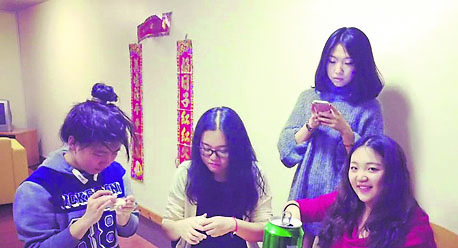 By Xiaoyu Lin
For all the Chinese, Chinese Lunar New Year (also called the Spring Festival), is undoubtedly the most important event every year. Weeks, or even a month before New Year's Eve, families, especially grandparents tend to be very busy preparing traditional food, snacks for visiting relatives and new clothes.
The process of preparing for the festival is really interesting and usually works to unite the whole family. Unfortunately this year I couldn't celebrate this festival with my family as I'm in Ireland. However, because of my friends, I did not feel lonely at all.
On the 4th of February, a big dinner was organised by the UL International Office for all the Chinese students. The restaurant was decorated by red and gold for the day, which are definitely the most welcomed colours during the festival. Also, the restaurant prepared round tables for us which is another tradition for Chinese dining culture, the circle often represents 'reunion'. Sitting and chatting with friends surrounded by our mother tongue was the best thing during this special festival.
Then on New Year's Eve, my friends and I decided to celebrate together. The house was decorated by Spring Festival scrolls and balloons, and of course they were all red. For this big dinner, which in China is often seen as the most important dinner each year, we prepared lots of Chinese food, especially dumplings. Following the Chinese tradition, we put a coin in one of the dumplings, which means a person who gets this dumpling will be really lucky in the coming year. With interesting games and the lively Spring Festival Gala on the screen, this New Year made me feel the warmth of home and encouraged me to do better in the coming year.