By: Ibinabo Enebi
Headline photo courtesy of Limerick Writers Centre: L-R John W. Sexton, Cllr James Collins Dominic Taylor
Limerick City celebrates a month-long event of exciting poetry, exhibitions and film as the Limerick Writers Centre marks this year's April is Poetry Month.
The Limerick City and County Mayor, Councillor James Collins speaking at the press launch of the event at his office in Merchant's Quay on March 22, 2019, said that the economic development of the city and the development of the city as a society is based on the creativity of the people.
Cllr Collins said: "We need to set up a city and an environment in Limerick City and County, that we keep that creativity and we keep those creative people here."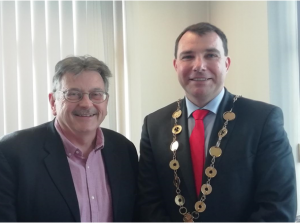 The programme this year has been expanded and includes 20 more events for the whole month and is believed to be the Centre's biggest project yet, according to the Director of the Writers Centre, Mr. Dominic Taylor.
The month-long celebration which spans between April 1-30, highlights events such as the Poets and Painters Exhibition at the CB1 51 O'Connell Street, film screening, a book launch, the Poetry Wall on Nicholas Street, and the prestigious Desmond O'Grady Poetry competition among many others.
Mr. Taylor said that the city has been home to both national and internationally renowned poets like Frank McCourt, Kate O'Brien, Criostoir O' Flynn, Tim Cunningham, Desmond O'Grady, and current Limerick Poet Laureate John W. Sexton.
Taylors says: "Writing and literature have always been a big part of the heritage of Limerick and we've had some fantastic writers over the years."
April is Poetry Month is one of the many projects, the Limerick Writers Centre has been engaged in since 2013.
The writer's centre was founded in 2008 as a nonprofit organisation geared towards the promotion of arts and creativity in Limerick.
In addition to its monthly poetry reading, "On the Nail," the Centre holds regular workshops and activities, that would help foster an interest in poetry, writing, and literature in general according to Mr. Taylor.
John W. Sexton, the current Poet Laureate for the Month of April said: "You asked me if poetry is dying? – No – poetry is not dead, because it has never been alive.
"Poetry is birth every moment in the head of everyone, who wants to perform, create or think about Poetry."