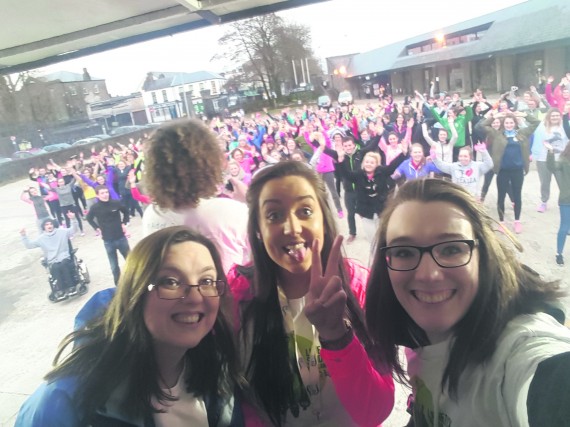 By Ciara Corcoran
Back in September I was approached by Alison Dervan, Mary I SU Vice President, about linking with LIT to do a positive mental health event together. As Limerick has such an alarming suicide rate and a high student population this was seen as an opportunity to tackle the issue of mental health while also showing solidarity amongst students of Limerick. Students go through many of the same issues regardless of what college they're in. We all have exam pressures, at least one stressful housemate or group project, potential financial strain or not fitting in- I can assure you are not the only one with these worries, there many other students in Limerick with the same worries.
So, we thought, why not come together to Walk and Talk about these things? Exercise is proven to improve mental health and the 4km route of the Corbett Suicide Prevention Patrol became a poignant route choice. The CSPP patrol this route 4 nights a week to look out for people in distress and prevent suicides. Over 300 flocked to the Potato Market with Richie ready to get them warmed up before the event with some dancing and some motivation as to the importance of the event and looking after our mental health. With the Welfare officers leading the way, we walked from the Potato Market across the Thomand Bridge, along Clancy strand, over the Shannon Bridge and back to the Potato market. The proceeds of this event went to Pieta House with a donation made to both the CSPP and the Order of Malta for all their help in organising and running this event. The huge turnout at this event shows the importance of mental health in everyone's lives and the impact it has had on so many people. This turnout further emphasises the need for additional support in all 3 colleges to encourage students to talk and provide an outlet for them to seek help.
I have to say a huge well done and thank you to Alison in Mary I SU and Mairead in LIT SU for all the amazing work they put in to make this event possible. Pieta House, CSPP, Order of Malta, Limerick Sports Partnership, Richie in the Arena and so many more- thank you!
With the success of this year's event we are hoping it'll get bigger and better next year with the help of you all and your involvement.
If you've ever been affected by mental health or want some more information have a look at some of these websites and services:
Pieta House Limerick- 061 484444 www.pieta.ie
UL Counselling- 061 202327 CM-071
Walk in My Shoes- 01 249 3555 www.walkinmyshoes.ie
Samaritans- 116 123  www.samaritans.org
A Lust for Life- www.alustforlife.com