"I never really think about what I'm taking. One night recently I was taking MD, Ket, and Coke
altogether."
"I don't think of it as a big deal, it's just a bit of fun."
The words of one student who spoke to An Focal under the condition of remaining anonymous.
It doesn't take a genius to tell that there is a serious drug phenomenon amongst Irish students.
The drug culture is more prevalent than ever in Limerick, with techno events and the culture
that goes along with it, steadily growing in popularity.
After speaking to some UL students who are well-versed in the drugs scene, it became apparent
that MDMA was the most popular among them.
"It's so readily available to buy. I probably have three or four contacts on my phone who I
could text right now and have a bag in an hour if I wanted it. It's nearly too easy to get your
hands on," they said.
So, what is MDMA?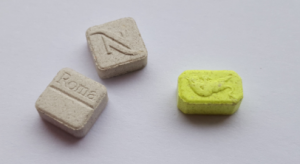 MDMA, or more commonly known as Ecstasy or MD, is a stimulant drug that causes mild
hallucinogenic effects.
Short-term effects include the 'love-buzz', where people feel intense emotions towards
those around them, dilation of pupils and tightening of the jaw.
"There is no better feeling than the rush of warmth you get shortly after taking a scoop, it
makes you feel like the happiest person on earth" said another student.
However, there are some serious risks to taking MDMA, including a 'come-down', where
users may feel bouts of depression in the hours after the drug wearing off.
Some other long-term side effects include weight loss, sleep problems and loss of interest in
work.
"The morning after taking drugs is a write-off. I can never face going into college or doing
any work. Some people might see that as a day wasted, but if the night was good, then I
don't think it is," one student posited.
When asked about precautions taken surrounding their drug use, An Focal was met with a series of
mixed responses from the group of UL students who wished to speak off the record.
"I always buy from the same person; I would never buy drugs off of a random lad in a
nightclub. I think it's better to have one or two people you trust."
"I always make sure to let everyone in my friend-group know what I'm taking well before
the night so at least if something goes wrong or I start acting weird they won't be as worried
and will know it's the drugs," came another reply.
"I always make sure to drink very little if I'm planning on taking stuff that night. I make sure
to stop after two drinks max," another added.
UL Student Life run several campaigns throughout the year in order to promote safe drug-
use, often hosting Q and A sessions on Instagram where students can ask anonymous
questions and receive advice on their own drug use.
Drug use may be a huge issue among college students, but it seems for the most part, that UL students are aware of the risks and dangers associated with what they're taking and try to take sensible precautions in order to ensure safer drug use.
Education and rehabilitation, and not scare-mongering punishment, is the way forward to tackle the issue.