The most disgusting assortment of bands was gathered and pushed onto the Pharmacia stage by ULFM and UL music society on Wednesday, March 8. After an hour or so of sitting in the smoking area eating elf bars, a large wolf-costumed man, adorned in UL merch, approached with a synthetic graphite and nylon constructed hurley. Beating at each of the tables and smashing glasses, the man roared: "GIG ON! GIG ON! GIG ON!" repeatedly. The eager audience shot up the stairs, all the while Wolfie whipped at the back of our heels with the horrid carbon fire imitation of a hurley.  The gatekeeper scribbled a golden cowboy hat onto my hand and I gained entry, safe from the mascot's violence.
The gig was a joint effort from ULFM and UL music society – the first of its kind. Recruited to play was the prime crop of what the Limerick musical womb has spit out over the last year, along with a few out-of-towners.
A sizable crowd gathered as Aiden Brady approached the stage and commandeered the DJ machine.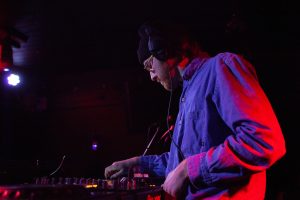 What followed was what can only be described as weird psychedelic techno. It was nice to have the DJ on first for once, a good preparation for the attack on our ears by the battalion of five bands later.
Aaron Houlihan was next to tackle the mob of thirsty degenerates, who were slightly disorientated from the strange psychedelic noise from Brady. Described as "sort of gazey pop", Aaron surprised me with a set I was horribly unprepared for.
His sound, he explained, is "confessional and emogazey". I believed I would be gently led into the night by some easy pop songs but lord I was wrong. Houlihan layered song after song of emotional brutality onto the audience. I left to try and compose myself for the rest of the night.
The air had changed when I returned after a quick breather in the smoking area. It was heavier with a hint of vinegar. I realised the why too late. MisVanity had taken the stage.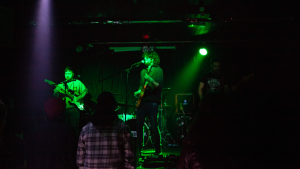 The Ennis-dwelling quartet shot into their set playing favourites '1070', 'Blue Lagoon' and unreleased 'Slasher'. In an interview several months ago, they explained that their name described a sort of anti-vanity, a lack of ego. Although, after watching them onstage, I must confess to thinking they deserve to be a bit up their own holes about their musical prowess.
I stood to the left directly in front of guitar player Saul Kenny as he tore away, the instrument rocking back and forth, kicking out at the crowd like a rat in a corner. The bassist, Eoin Purcell, thumped at the bass, holding his head at such an angle that a shadow came down over his eyes, pointing the bass at the crowd as if accusing us of some heinous act. Drummer Ryan Killowry contrasted with the rest, playing wildly while smiling wide and shouting along with the lyrics. Rob Ryan stood at the centre of them all, directing the rock onslaught into a focused heavy set from start to finish.
There wasn't much time to recover as Limerick-based band Moving Home mounted the stage.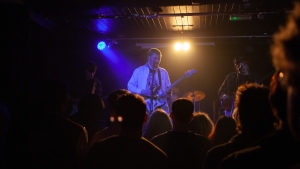 The newly born emo quartet was crafted in the aftermath of Vacuity by frontman Ben 'bomber' Young.
The post-hardcore powerhouse that was Vacuity played their last show on Halloween of last year. They left behind a sizable hole, and I wasn't sure that the Limerick scene would have the same gusto it had when Vacuity was at its peak. I was wrong.
Young recruited local heartthrobs Mia Anderson (bass), and Darren Cullinan (guitar), along with fellow Vacuity alumni Conor Brennan (drums) to create the perfect golem of a musical cacophony that is Moving Home.
There were whispers amongst the crowd questioning whether Moving Home could follow the rash that was MisVanity's performance. These naysayers were quickly shut down by the opening chords of Basement's 'Covet'. Ben's strumming and voice rang out alone, halting the pinching and bickering going on amongst the crowd. Conor, Darren and Mia were standing poised and ready to attack the tune like a large animal at a bag of peanuts.
Just as a sizeable creature would eat away at a bag of peanuts, I too ingested and savoured every second of their set. They followed with an original song titled 'Sungazing'. It's set to be released as a single on March 24 at a group brawl in People's Park.
They followed with a cover of Hum's 'I Hate It Too' which according to ULFM station manager Con Macleóid "blew the bollocks" off him. I can attest to this injury as I did see him towards the end of the night collapsed in a corner, wailing about a loss of bollocks due to emo savagery.
Moving Home rushed off stage for a secret meeting with the Zaza witch out the back alley as Theatre took the reins.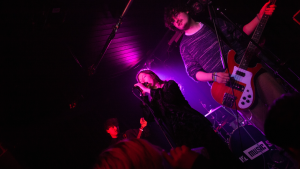 Sean Storan (drums), Oscar Halpin (guitar), Dean 'shotgun' Justice (Bass), and Dara Gooney (Guitar) in single-file boarded the platform and tuned up. Wordlessly, they began playing an instrumental cover of 'Tainted' by Dundalk's Just Mustard. In a bang and flash, Maeve appeared from side stage and took her post in the centre as they flowed into their originals 'Home and Sober' and 'A Lesson'.
I learned from an interview with the band several months ago that 'A Lesson' is a song about learning from the past and letting go of things that hurt you.  With every passing show, each member is refining and creating their own unique presence in their songs. Maeve uses wild facial expressions and borrows the wail of a much older musician, someone who is well-versed in love and loss, to communicate the emotion and story behind her lyrics. The same emotion is put into the massive covers they played. 'Day of the lords' by Joy Division, 'Matty Groves' by Fairport Convention and the crowd favourite 'The Wild Rover' (Lankum version) all left me glassy-eyed and bow-legged until they were well cleared from the stage.
I leaned up against the wall, knees buckled and eyes rolling from the constant bombardment of musical machine gun fire. I dared not leave my post for fear I'd collapse on the dancefloor and miss out on the last act. I decided to rest my eyes for a second.
I woke to the sound of large artillery guns firing all around. I was laid prone on the dancefloor, a thick fog had settled, leaving the crowd wild and lost. Scenes of friend scratching friend and screeching headbangers played out in flashes in between blasts of a strobe light. God Alone had been released.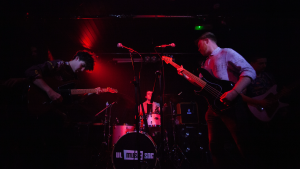 The shots were fired from a curly-haired man contorting on stage, holding his instrument like a shotgun tucked under arm. He angrily leaped and twitched at the crowd. The arrangements of the songs were so quickly changing it was impossible to move along without employing feral spasms and convulsions.
God Alone is a math/noise rock band from Cork. On stage were two microphones facing each other. One for vocalist/guitarist Jake O'Driscoll and one for bassist/vocalist Cian Mullane.
The show played out like a shouting match between the two, each song screeching at the other. This battle only stopped when the anger was focused onto the crowd. In these moments as O'Driscoll flailed around, Mullane would stand shirtless and raise his bass up into the air. One arm completely rigid, staring up at the ceiling, he would drop the instrument using the momentum to go right back into the song.
To the left stood a saintly figure picking away at some sort of machine. I've since learned it was a synth, but at the time Dylan Kelly seemed like an alien-being madly pressing flashing lights and buttons.
Behind was drummer Jack O'Hanlon, who was somehow rhythmically keeping up with the rest. To the right was guitarist Seán Thompson, who, in between playing, would raise both arms in the air and, on beat, point at the crowd like a teenage disco DJ for minutes at a time. He would stop suddenly and start playing along to a riff that shook me to hear. I found myself staring at this spectacle for most of the show.
A song would end, and the crowd would be left panting as one of the singers would approach a microphone and very gently thank the audience and organisers. The gentle words would then be replaced by a barrage of noise. I failed to catch any of the song names due to the non-stop going of the show and frankly I am happy I didn't.
Their set ended with a savage scene. O'Driscoll leapt at Mullane like a pitbull off leash with a toddler in sight, and both fell from the stage in a cartoonish cloud of violence. They wrestled on the floor battling physically as they had been musically for the last hour. The music went on until guitar and synth were thrown to the floor in favour of leaving the stage like cod off a boat. The four savages wrestled on the floor until O'Hanlon threw himself up off his seat and scattered the drum set across the stage – no time wasted in firing himself off the deck and into the God Alone scrap nest. They eventually tired themselves out as everyone cleared the room.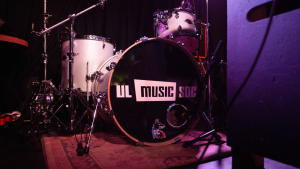 I approached one of the organisers, Con Macleóid, as he picked up pieces of gore and debris left behind after the show. He explained that ULFM and UL music soc have never worked together like this, and that the show might become a legacy event that can be more easily organised in the future. I quizzed him on the local scene, and he imparted some fairly depressing insights.
He explained: "There's a really good feeling in Limerick at the moment, but how long it's all gonna last without any late-night venues outside of Pharmacia, an all ages venues or any support generally is a major worry for me. The Murder Capital left Limerick, NewDad left Galway. This side of the country doesn't give bands much reason to stay around."
I was left questioning the future of the Limerick music scene.
We were surrounded by a rotten amount of talent, and yet, there seemed to be no outside support coming in. We will run out of space and begin cannibalising each other. We need an iron-fisted leader or an organised committee to focus the litres and gallons of talent that is pouring out of Limerick's musical hole. I could not dwell on this any longer. My brain, already swollen from the sheer amount of musical savagery it suffered, could take no more.