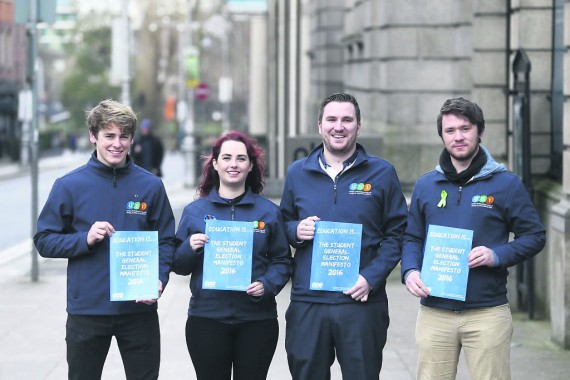 By Darragh McCarthy
Students in Ireland have always been regarded as being quite politically inactive, however that is less to do with being possibly lazy, uncaring or detached from greater Irish society, and more a direct indictment of the Irish political system and our political establishment at large.
Traditional politics, "pale, male and stale", offers very little for us students, and so for the longest time, the term 'politics' alone would bring a sour face to even the most bubbly and optimistic of young people. It is not directed at us, and in an age of austerity and pitiful employment opportunities, emigration and low-pay is the most likely prospect for most of us.
So in an Ireland experiencing a mental health crisis, among other problems adversely affected students that the conservative political establishment would rather not have to deal with, what is the point of trying to involve ourselves in a system that offers nothing for us, and does not want us? The more elderly 'grey vote' is a prized commodity in Irish politics, and the young are neglected, as they are, for the most part, not politically conscious, active, or at the very least, even registered to vote.
So 'hope' is certainly not a word that would come to the minds of most students regarding politics, if anything, only apathy or distrust and distaste for something that is generally felt to be soaked in lies and manipulation in pursuit of votes on election day. However, on May 22nd last year, Ireland went to the polls in the largest referendum turnout in the history of the state, and voted 'Yes' to the margin of 62% in the Marriage Equality referendum, introducing same-sex marriage for the first time globally through popular vote.
The Marriage Equality referendum was more than just about giving same-sex couples in Ireland the ability to marry, rather it signified so much more than that. The referendum was something that wasn't abstract, or layered in political jargon and unnecessary over-complication. A section of the population was being denied a right granted to the majority, and sensing this obvious injustice, students and those that tend to be less 'political', used their voice to express their opposition to inequality.
Over 60,000 younger people registered to vote for the first time, and 50,000 returned from abroad for voting day. The Union of Students in Ireland (USI) coordinated voter registration drives across the country resulting in the registration of almost 30,000 students, and on one day of registration in UL, over 450 students were registered to vote. This can only suggest a seismic shift in politics in Ireland, one where a new generation can proudly turn their back on our religious past layered in controversy and scandal, in favour of what can only be seen as a desire for a better, more equal Ireland.
But will this desire for a new Ireland be reflected in the upcoming general election? The USI is running its voting initiative calling on students across the country to #MakeASmartVote, by using sites like Smartvote, "the Tinder for Politics", to gauge which candidates they are most aligned with. These are excellent ways for students who used their voice to say yes to equality in 2015, to support other issues that are present in Ireland today that they care about, issues that the USI has taken up through its Student Election Manifesto 2016.
Issues such as accommodation, funding for access to higher education and a repeal of the 8th amendment are among the top issues for students according to the USI. The conservative nature of Irish politics can be easily viewed as beginning to change, as students become politically active and use their vote wisely to support the change they want to see in this country, rather than succumbing to the apathy that allows some political parties to thrive, and in turn, offer nothing for young people.
The latest figures have shown that some 80,000 students registered to vote over the past two years. Following the marriage equality result, politics can be transformed into not a dirty word for Irish students, but in light of the supposed inclusive and progressive Ireland that has been built this centenary of 1916, we can go to the polls this general election and demand real change.
As the likely election day of February 26th draws ever closer, it is yet to be seen just how much of an impact students will have in the politics of this "modern" Ireland, but if current statistics indicate anything, it is that students and young people will again have a massive impact on the outcome.