University of Limerick President Dr. Des Fitzgerald has hailed those involved in today's Climate Action marches on campus, and within Limerick itself.
In an email to all staff and students this afternoon, Dr. Fitzgerald said he "admires and support the students across the world and on our campus, in our city and across the region that are taking part in the largest global climate protest in history today."
"Sustainability and the protection of the environment are key considerations for us at University of Limerick as we face global challenges head on, particularly climate change," he added.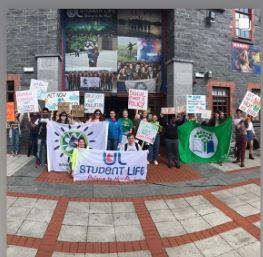 The event began in the courtyard at a march led by UL Vice President Academic Affairs and Student Engagement, Professor Kerstin Mey.
"The campus itself is teeming with life and biodiversity and we are deeply committed to protecting and nurturing the green space around us," stated Dr. Fitzgerald, and cited the water fountains installed on campus over the last year that have been used over 420,000 times as an example of the UL community taking the issue seriously.
"We have experts in the area of marine and mobile robotics, research and design in composite materials, processing and manufacturing as well as developments in disruptive technologies – all of which could aid in the fight against climate change."
Thousands attended a march in the Limerick City Centre on Friday afternoon, echoing hundreds of similar marches in other cities across the world.