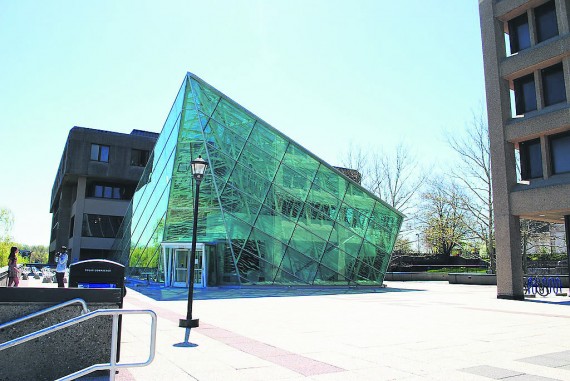 By Anna Cullen
Rachel Pierson studies Sociology with a concentration in Human Services in SUNY New Paltz University in New York. New Paltz is situated 80 miles from New York City and is a quaint town in Ulster County.
Rachel came to the University of Limerick in January of this year and is flying back to NY on May 17th.
Speaking to her, she expressed her enjoyment at studying here in UL and spoke of her university back in New York.
"I go to SUNY New Paltz, and I would highly recommend it. It is an extremely green campus, and it is surrounded by various mountains perfect for hiking and skiing. It is also a 2 hour drive to NYC."
So why did Rachel choose Ireland?
"I knew it was a beautiful country, with a lot of history. The people were also supposed to be extremely friendly and fun and a few of my friends have been here and recommended it."
On arrival in UL, Rachel experienced just that. A beautiful country with friendly people. However, she can't quite get used to the rain here. The main contrast between university in NY and here is "the differences in timetabling".
She lives in Kilmurry Village on campus with five other American girls. Rachel describes the accommodation as "so quaint and clean".
In SUNY New Paltz, Rachel plays volleyball and so, keeping fit is very important to her: "The accommodation is also conveniently located next to the gym".
There isn't a huge difference between the two countries as regards nights out, according to Rachel, but she and her friends "have to take a lot more cabs here".
The people in UL have welcomed Rachel with open arms and have been so helpful. She enjoys going to 'International Night' here in the Stables every Friday evening. She can interact with other international students and mix with Irish students too.
"The guys in UL love their joggers and their Nikes," exclaimed Rachel. "I have seen a few good looking guys here."
I asked Rachel if universities in America are like what we see on TV and in movies. "At big universities it is definitely like that – the big frat scene and the football games. But at smaller universities it is more relaxed, just like UL."
She doesn't regret one bit of her time at UL and feels she made the right choice. "You really get the Irish campus experience."
UL has an international exchange link with SUNY New Paltz and students who have previously gone there on Erasmus have loved it. Fiachra, a past student who is now graduated, went in 2013/2014. "I would highly recommend New Paltz. It was a great experience."
"Funnily enough I met my fiancé there, so you never know what's going to happen."
He spoke of the modules saying a 3-credit one is easier than the 4-credit. But, if you want to switch when you're over there, it shouldn't be a problem. "You can change when you get there if you want to, it's super easy."
So SUNY New Paltz university in New York, as daunting as it may sound, is very similar to UL at the end of the day.