By Erin McIvor
Do you imagine communities leaving their homes and country to live somewhere else? Do you think of family farms becoming unsustainable due to climate change? Or does a town having to relocate 9 miles due to coastal erosion come to mind? Unsurprisingly, climate migration causes all the above examples and much more, affecting countless people each year. Families and communities are forced to uproot from countries who emit very little cO2 emissions. Well as they say, "those who are the least responsible, are the most affected".
Taking part in this year's STAND Student Festival about climate migration, opened my eyes to the serious issue of climate change which greatly impacts millions of people around the world. STAND was set up in 2014 to help satiate the desire of students and young people in Ireland to become more aware of sustainable development issues. By providing this information, they help people to act against climate change on an individual and collective level. The STAND student festival 2020 aimed to highlight the issue of climate migration through the mediums of panel discussions, inspirational speakers, film screenings and workshops.
Film screenings really captured the strength of the hardships faced by these communities each day, and the extremities of their fight against their strongest opponent: mother nature. "Thank You For The Rain" focused on a Kenyan farmer – Kisilu Musya – who recorded the effects of climate change on his family and community. We see Kisilu transform from a small farmer to a climate activist on a global scale. After three weeks of drought, Kisilu's home is damaged by a terrible storm and he states that they are "migrating from the rain problem to the house problem". This heart-breaking scene transitions to one of joy when the family are laughing and joking as they know that no one has been hurt. Kisilu's inspiring outlook touched many people that heard of his story and resulted in him being invited to speak at the United Nations Framework Convention on Climate Change in Paris 2015. Upon returning home, his community were inspired. Committees were set up and gardens were built – his hard work paying off.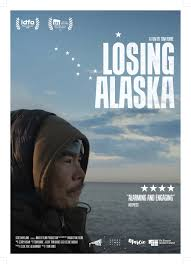 "Losing Alaska" focused on the topic of climate migration. We saw the Yup'ik culture in Newtok, Alaska watching their homes disappear into rolling seas due to coastal erosion. The sense of loss and despair ran rife with the 375 people affected, with one community member commenting "climate change is like playing chess and it has checkmated us". With 75 feet of land being lost per month, these people have no other option but to move 9 miles to the nearest town. For this community, it is not as simple as just moving home; they also have to say goodbye to their culture, which is based on hunting and fishing and must build and adapt to a new town on higher ground. The film ends with community members sadly announcing, "this should be the world's wake up call".
Both films portray two communities living their daily lives with the constant threat of climate change looming over them. In Ireland, we seem to be affected by climate change on a much lesser scale, enjoying our warmer summers but lamenting over our stormy winters. The issue with climate change and climate migration is that it is a global one. It is not just a burden of the countries most affected. We never think that climate change could affect us like it has others, but we could next if we do not learn from the harrowing experiences of these communities. If the experiences of these people are a wake-up call, we must answer it.