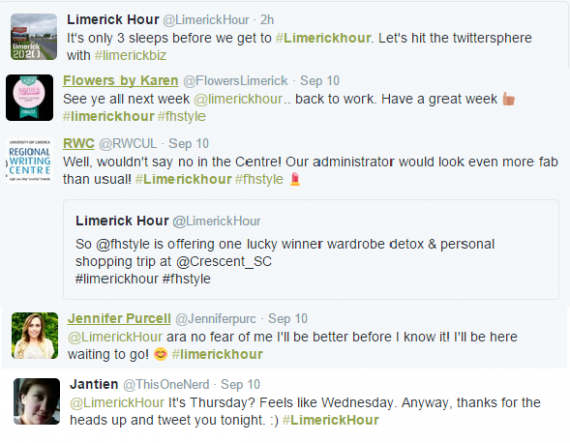 By Seán Lynch
Limerickhour has become a regular for many Limerick tweeters, including many students and staff of UL.
The very first Limerickhour took place in February of this year, continuing since then on Thursday nights, 9-10pm.
Limerickhour's host, Annette Doran, is a huge twitter fan and sees the potential of this platform for companies who wish to promote themselves to the local market: "I spend my night giggling to myself at the hilarious comments."
The number of students getting involved is growing every week, including those in all three third level institutions in Limerick.
Annette Doran spoke about UL students' involvement in Limerickhour: "Why should students of UL get involved? You guys are tomorrow's entrepreneurs who already embrace Twitter and see the value of promotion via social media.
"Apart from the possibility of winning dinner, or a freebie of some value, you get to know the other people on Limerickhour and find out what's going on in Limerick city and county."
Jennifer Purcell, UL student and Limerick Leader intern, has been tweeting with the hashtag Limerickhour weekly since it started: "Limerick hour is fast growing as one of the biggest networking events on social media!
"It's a chance for businesses to promote themselves, for people to interact and for genuine relationships to be made. I've made a lot of contacts from Twitter. For one hour a week everyone practically stops what they're doing to spend an hour promoting Limerick. I think it's incredible."
Ms Purcell added: "It's so heartening to see and there's always such a buzz having everyone get together and sharing their views. It would make you real proud to be from Limerick."
Speaking about the success of the online gathering, Ms Doran said: "Limerickhour has a witty, Twitter-loving audience who have embraced the power of Twitter and share in the pride when we trend in Ireland. We don't guarantee our sponsors that we will trend, but it seems to happen most Thursday nights."
The trend has even taken top spot as the number one trend in Ireland at times, despite taking place at the same time as Dublinhour, Westmeathhour, KilkennyHour and Roscommonhour.
Quickest Fox Marketing, part of a small start-up company, ran the very first Irish regional county tweeting hours.
Phillip Gleeson, owner and entrepreneur, started the hashtags Galwayhour, Donegalhour and Corkhour a year ago.
Mr Gleeson believed that this was something great, something fun and a really valuable platform for SMEs and businesses to promote themselves online via Twitter to a local audience.
The 3 initial counties had performed so well that he felt it was time to take it to the next level, bringing on a team of hosts to start up some more counties, thus, starting Limerickhour, along with several other counties.
Sponsors can 'hire' Limerickhour for an hour between 9-10pm on a Thursday night and they will be promoted intensely with at least 20 tweets during that time, providing the audience with a lot of information about that sponsor.
The sponsor will provide a prize for the evening and this encourages people to tweet and retweet more often. The prize winner will have to have used both the hashtag of the sponsor and of Limerichour.
Ms Doran sees the hour as a new way to engage with local people: "The response to Limerickhour has been phenomenal and it is very competitively priced for a business to get its message out to the market. Where else would you be able to engage with your market audience so intensely as during this hour? You can tell them all about your service, product or event and have lots of craic while doing it?"
She added: "We have 20 counties live now and are in the process of getting the remaining counties up and running. The object is that we can offer a large organisation the opportunity to promote their business, product or event for a whole week across all 26 counties. Just imagine that! Intense tweeting all day every day for a week. Beat that, print media!"
Limerickhour takes place every Thursday, 9-10pm. For all the updates, follow @limerickhour and #LimerickHour on Twitter.