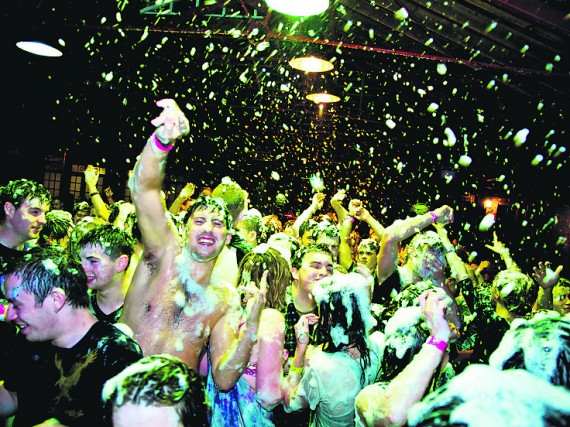 By Evan Bleasdale
As the new cohort of students arrived in UL, as did the anticipation for Fresher's week, and for many the first week of freedom. For the Students' Union, the task was to provide a week jam packed with events, day and night, to set the standard for the next four years of their college, and they did not disappoint. With activities day and night to keep new students entertained, a highly enjoyable week was had by all.
As Monday morning came around, the first taste of college for the newly initiated students began. In between lectures students assimilated in the SU courtyard, with a live DJ setting the mood with some music to entertain the college's patrons. Alongside this, the atmosphere was enhanced with freebies from various companies, such as the Odeon Cinema, The Delivery Guys, and Oxygen.ie who dished out free popcorn, BBQ and goodie bags to the eagerly awaiting students. As the college day came to a close, the anticipation rose as the eagerly awaited Foam Party came around, with Ireland's largest foam cannon, The Beast shooting foam over the students. A wild night was had by all who attended to start off a crazy four years in UL.
Every day in the SU courtyard free food and vouchers were handed out to students, varying from free pizza to bus tickets, chocolate to magazines. You couldn't walk through the throng of students and promotions and not come out the other side laden with gifts. Not only were there free gifts, but also the opportunity to win even better prizes through various challenges. JustEat.ie was a good example of this, testing your brawn with high striker, or Bank of Ireland, with a 'The Cube' like challenge.
The highlight of the week for many was the Wednesday night, also known as the Fresher Fest, with the headline act The Riptide Movement. With a carnival like theme, the atmosphere was electric. Warming up the night were Mike Scala and his band, and the Knights of Leon, an astoundingly accurate tribute band. The act the masses came to see was the Riptide Movement, known for their hit 'All works out'. A huge crowd gathered in the end, leading the lead singer, Malachy to crowd surf over the eagerly awaiting fans.
Every night after all of this entertainment, the students migrated to Crush 87, the student's nightclub of choice. With a selection of genres playing throughout the nightclub, the students gathered and mixed with the rest of the city's students, and capped off the night with a bang.
This will be a week these new students won't forget easily, as it was their first taste of real freedom. Fantastic music, promotions and an atmosphere that was felt by all. A fine welcome indeed.