Sweeping three Emmys, a sell-out Broadway show, and widespread critical acclaim, Fleabag has proved to be the most explosive television shows of 2019.
Debuting on BBC Three (now an online service) in 2016, the show has become a phenomenon in only the way a British show can; being bloody brilliant and having only two seasons.
With writer Phoebe Waller-Bridge securing an 18 million pound per year contract with Amazon, it begs the question; what makes the show so good?
Fleabag sees a quirky thirty-year-old café owner navigate her life in London as she battles with personal trauma and family tribulations.
What may veer into cliché territory for a TV show quickly becomes a masterful act of screenwriting, directing, and casting, which has transfixed viewers and critics alike.
Many claim the success of Fleabag is down to the doomed romance between the title character and an Irish Catholic Priest, played by Andrew Scott.
The chemistry between the two is heightened by razor-sharp dialogue and editing to create an iconic pairing no viewer will forget lightly.
Of course, the supporting characters are also pivotal in shaping Fleabag as a masterpiece.
From the oddities as Fiona Shaw's therapist to Oliva Coleman's artistic Stepmother, the sensational script creates an electric energy to the show unequalled by anything else on screen.
However, the real success of Fleabag lies in the character of Fleabag herself, played by Weller-Bridge.
The Londoner defies all previous portrayals of women on screen, creating a chic, disastrous millennial whose comedic timing aligns with brutal honesty.
"I have a horrible feeling I am a greedy, perverted, selfish, apathetic, cynical, depraved, morally bankrupt woman who can't even call herself a feminist," the character confides.
There's something magically chic about Weller Bridges' character, from her 1930's movie star appearance to a stunning wardrobe which led to selling out jumpsuits and trench coats after the show's airing.
The most striking aspect of her portrayal is through breaking the fourth wall and speaking directly to the viewer.
Here, Fleabag gains the audience's trust by sharing an uncompromising perspective on life, from her unsuccessful romances to chaotic friendships.
Few scripts can get the balance between comedy and tragedy correct, whereas Fleabag balances the two and creates one of the most touching portrayals of modern life as a result.
"I just think I want someone to tell me how to live my life, Father, because so far I think I've been getting it wrong," the show's protagonist states in what has become the show's most iconic scene.
As she struggles to cope with grieving and disillusionment- Fleabag creates an intense bond between herself and viewers as she frequently brings them to the verge of tears alongside hysterical laughter.
There isn't a flawless arrangement to her life and shares the gritty struggles with an idolising viewer.
The relatable nature of Fleabag's lack of guidance is a key aspect of how the show triumphs over its lacking peers (Amy Huberman's show, anyone?).
Fleabag is a BBC show through and through, which is paid for by the license fee.
It's somewhat disheartening that Fleabag and Peaky Blinders is what the British taxpayer gets for the money and we're stuck with Amy Huberman and RTE trying to make another show about Dublin crime gangs.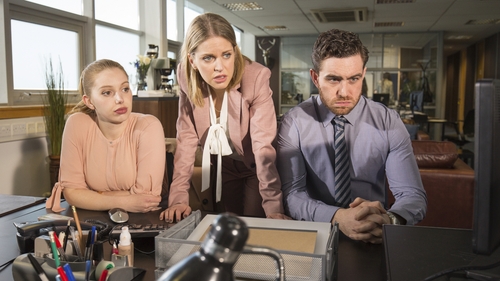 While the BBC show has garnered acclaim and a devoted fanbase, Weller-Bridge says there will not be a third season, in what is so typical of British comedy.
Weller-Bridge appeared in last year's Star Wars spin-off Solo, so Hollywood has already taken note of her, September's Emmy success solidified what we already knew – she's a talent that's here to stay.
With her input into the new Bond movie and a third season of Killing Eve in the pipeline, it won't be long until the 34-year-old Brit cleans up at another award ceremony.