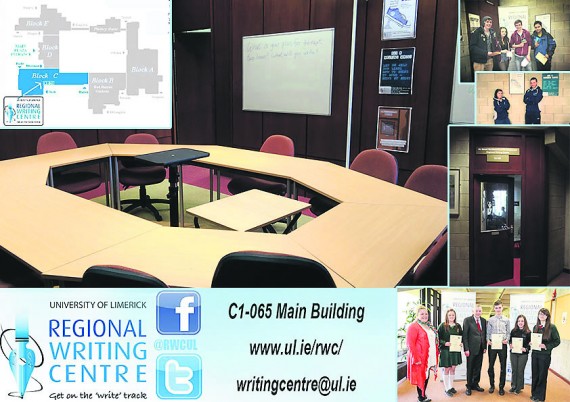 By Seán Lynch
Many students, especially those transitioning from secondary school to university, struggle at some point with adapting to academic writing, or finding a space to write.
Structuring essays, referencing, or making an academic argument are just some of the challenges that face university students when writing.
For almost a decade, the Regional Writing Centre in UL has been there to support students in all aspects of writing.
Here are just five things that the Regional Writing Centre offers, to help students with their writing:
The Writing Centre's peer tutors talk to students about any current written assignments, on a one-to-one basis. The peer tutors can address any aspect of writing, or the writing process, helping them see problems in their papers. Sessions, for up to an hour, can be booked at:  ul.mywconline.com.
Writers' groups are run in the Centre on a weekly basis. Writers who struggle to write in isolation or who are easily distracted can be amazed at the amount of work they do when writing in a room filled with other writers. The Writers' Space accommodates up to eight students in the distraction-free room, and runs on a first-come first-served basis.
The Centre runs regular workshops for students of UL, including academic and dissertation workshops. Details of time, place and topic of workshops can be found on the events section of the Writing Centre website and will be circulated to all students via email.
The Writing Centre's How I Write, Ireland series looks into the processes through which authors write.  Joseph O'Connor and Donal Ryan are two previously featured authors. The Centre also leads the One Campus One Book initiative, which encourages all members of the campus community to read the same book and talk to one another about that book during the academic year.
The Regional Writing Centre's website features resources to assist all students in becoming better writers.
The Centre is open weekdays from nine to five, in Main Building room C1-065, just down the hall from Starbucks Café in Red Raisins.
Email writingcentre@ul.ie for any queries, or visit ul.ie/rwc.