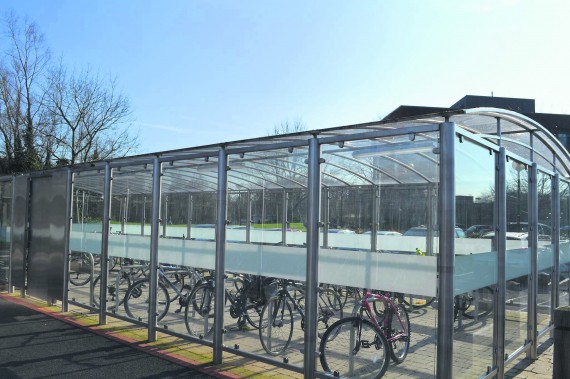 By Tomás Heneghan
The University of Limerick (UL) has seen an almost 50 per cent increase in bicycle thefts over the past two years.
According to records obtained under the Freedom of Information (FoI) Act, from 2013 to 2015 there was an increase of over a 48 per cent in the number of reported stolen bicycles at the university.
In 2013, 45 bicycles were reported as stolen at UL, a figure which grew to 67 in both 2014 and 2015.
There are currently 22 public parking areas for bicycles throughout both the main and North Campus. There are also seven covered public bicycle parking areas on both sides of campus and a secure UL bicycle hub located in the car park behind the Foundation Building.
The University of Limerick's website explains: "Secure bike parking facilities are available in the Bike Hub which is in the Foundation Building car park."
Students and staff can request access to the Bike Hub by emailing SmarterTravel@ul.ie with 'Access to the Bike Hub Request' in the subject header. They will then receive an email requesting students or staff to register their details.
The names of those who have done the above will then be added to the list of registered users and they will be able to access the hub using their ID card.
The sheltered hub is made up of two secure huts with 22 bicycle racks in each. Upon inspection by An Focal, it is estimated approximately 88 bicycles can be catered for between the two huts.
The university also lists on its website "7 Tips for Cycling in UL' – Advice for storage". This includes registering a bicycle at www.bikeregister.ie, taking a photo of the bicycle, purchasing a high-quality lock and using two locks, such as a U'lock and a locking cable, "for the greatest theft deterrent."
There are also tips on how and where to lock up a bicycle on campus. These include:
Always locking your bicycle whenever you leave it.
Locking it in a well-lit and highly trafficked area.
Always locking your bicycle to a fixed bicycle stand where possible and not locking your bicycle to fences, signposts, lampposts, disability ramps, stair railings or trees. Bicycles not parked in a designated area may be removed.
Being careful not to leave easily detachable items such as lights on a bicycle.
The University of Limerick Buildings and Estates Department's website says the following regarding bicycle use on campus: "Cyclists coming on campus will be required to use the facilities (cycle paths/stands) provided by the University.
"Bicycles are not permitted into the University's buildings. Cyclists are required to park their bicycles at official bicycle stands only.
"Securing of a bicycle to any structure/shrubbery other than official bicycle stand will result in the illegally parked bicycle being fitted with 'Security Lock'. Owners of illegally parked bicycles can have the 'Security Lock' removed by calling to the Campus Security Centre located at the Reserved Visitor Parking (Building No. 15 on campus map).
"Any bicycle fitted with a 'security lock' and not claimed by 8.00am the following day will be removed and stored for a period of one month. Owners must claim their bicycle within this month period, after which the University of Limerick may dispose of the bicycle. The University of Limerick will not be liable for any loss/cost for carrying out such action.
"Unauthorised removal of a 'security lock' and/or damage to the 'security lock' will be deemed as interfering with University property and a breach of the University parking policy and may result in proceedings to be instituted against the bicycle owner, at the discretion of the University.
Bicycles parked in unauthorised areas causing a Health & Safety issue will be immediately removed. The University will not be liable for any damage to the bicycle/bicycle lock in the carrying out of this action."