By Sally Gorman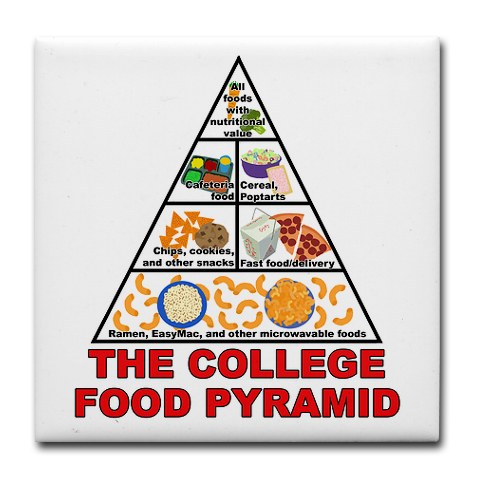 8% of college students never make their own dinner, this is according to a survey carried out on third level students across Ireland last week.
The survey shows that almost 80% of students surveyed opt to eat on campus most days instead of cooking their own meals.
The students surveyed admitted that it may not be cheaper to eat on campus but it is more convenient and less time consuming.
"By eating in college I save a lot of time and more time means more study. If I don't have to stress about coming home to prepare dinner in the evenings then I can be more focused on my college work," one student said.
The few who do opt to cook at home admit to eating a lot of convenience foods like pizza and noodles.
The survey also revealed that over half of students consume fast food at least once a week.
Student Union Welfare Officer Shane McCormack feels that despite UL's 'healthy' reputation more could be done to encourage students to eat healthier.
"UL and ULSU can always do more to promote healthy eating on campus – but as a University which would be considered as active and healthy as a whole due to the facilities, events held by clubs, societies and perhaps Smarter Travel, the issues may not be as prevalent as seen in other campuses."
Sometimes students find it difficult to make the right choice and more often than not what you think may be a healthy option isn't.
"There are many outlets on campus that serve food – and it's often difficult for students to distinguish between what's healthy and what isn't. It does depend on where you go and what actually appeals to you – for some it's the price, others it's taste, and for some it all comes down to their lifestyle, said Shane."
Eating on Campus isn't always the best idea either according to Shane: "I spent €4 every day on a prepared sandwich which wasn't very filling. I spent €20 that week on sandwiches alone. How much would it cost me at home if I broke it all down? 30 cent every day. That's the difference and that's what I had to do and see for myself to understand what a simple change could mean for me."
He encourages all students to "find the motivation to make the change, know why you're making the change, see the difference, stick to it."
Shane was a student himself once and does realise the difficulties us students face; especially when it comes to takeaways.
"Takeaways are a large part of student life, after a night out, or even a quiet night in – all it takes is one person in the house to suggest a takeaway for others to chip in to the unhealthy lifestyle. It's unfortunate," said Shane.
Second year Food Science and Health student Sorcha Mullins explains that there are simple ways for students to be healthier during the week.
"Use less oil when frying, eat more lean meat such as chicken rather than red meat, try to put as much veg into your meal as possible and steer clear of most processed foods such as pizzas and potato wedges.
"I know that these habits are very hard to break when you're on a busy schedule, but a slight bit of meal prep earlier on in the day may make healthy meals less time-consuming," Sorcha explained.
Ms Mullins knows that we don't always have the time to prepare meals but claims that "the food that is served from the restaurants on campus are always fresh and sourced from local, easily-traced suppliers."
She also advised students that "takeaways should be eaten in great moderation, once a week at the most. It is also better to order from a takeaway restaurant that serves without MSG and artificial colours."
The best way to avoid snacking during the day is to "make sure and set aside about 40 minutes during the day to prepare meals."
Easier said than done eh?