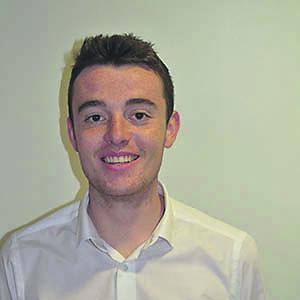 By Colin Clarke
Well lads, what's the craic. That was some semester. It's hard to believe it's week 11 already. Get those dirty smelly Christmas jumpers ready because Christmas Daze is just around the corner. It's been a long semester but an enjoyable one. We had a great Fresher's Week, our inaugural "Wolves go to the dogs" race night, SoUL Fest with Hudson Taylor, Full Moon welcome party and still have Christmas Daze to come.
We hope to continue to organise and support events like this next semester and are looking forward to a fantastic Charity Week. We are also in the middle of planning an amazing new event called UL FEST which will be a music and arts festival for the whole UL community; staff, students and alumni. The proposal is to hold a large festival on Plassey Lawn with a big marquee act to headline the gig. We want to raise a substantial amount for charity this year and showcase UL's beautiful and unique campus to current and prospective students both nationally and internationally.
My day-to-day responsibilities this year are going to meetings and representing students' views on a variety of different committees. The union have expressed the need for increased resources in the counselling department. Through constant lobbying of the director of student affairs, as well as UL's Governing Authority, we were successful in gaining additional resources which will help to clear counselling waiting lists by Christmas.
We have also placed a lot more emphasis on press releases and communication. We have had national and local press coverage around our fight for increased counselling services and we were also the first Students' Union to facilitate the introduction of gender neutral toilets. We have also presented the Minister for Education Jan O'Sullivan with a letter calling on her to prioritise mental health services in third level institutions and to collaborate with the Minister for Health on this initiative.
The problems with the student health centre have also taken up a lot of my time. There have been over 10 meetings this semester in order to try and find a solution. There has been an increase in the amount of doctor's clinics on campus which surpassed the amount of clinics we have had on campus for the last three semesters.
However, this is only an interim measure as the university is currently in the tender process of finding a new medical director. ULSU will continue to prioritise student welfare and will engage with the university to ensure an effective and appropriate provision of healthcare is available to UL students.
I sit on over 30 committees which makes it impossible to give you feedback from them all in this article but I will try to summarise. I sit on the building committee for the Library extension and one of the main things I really wanted to emphasise was the need for a 24 hour study area. I'm happy to announce that there will be a 24 hour facility in the new building, which it's hoped will operational by the end of 2017. This is a huge development for UL students. We have also been able to secure additional library opening hours at the weekends leading up to exams. From this week (Week 11) onwards the library will be open from 10am until 10pm.
One of the biggest projects that we have been working on is the creation of a new student centre. Unfortunately our current student centre is not fit for purpose and over capacity. Our huge increase in student numbers means that we can no longer operate in our current facility. Next semester we hope to run a referendum which will ask students if they want a new student centre. We are currently in the process of compiling student suggestions for what should be included in our new centre. If you have any ideas please email them to ulwolves@ul.ie
I've immensely enjoyed this first semester but it has been as challenging as it has been rewarding. I'm constantly looking for ways to improve the union and for student feedback. That's why I've been having a weekly clinic in the stables on a Wednesday night called "Pints with the President" where students can ask me a question, or give a suggestion about how to improve the union and in turn receive a free pint or soft drink. I've managed to get over 80 different questions and queries which are being taken into account and worked out where possible.
I hope you all have had a great first semester. I'm personally really looking forward to what we have planned next year. Also elections for the students' union are in Week 7 next semester and if anyone is thinking about running for a position, come in and talk to Liz Gabbett about what the role entails.