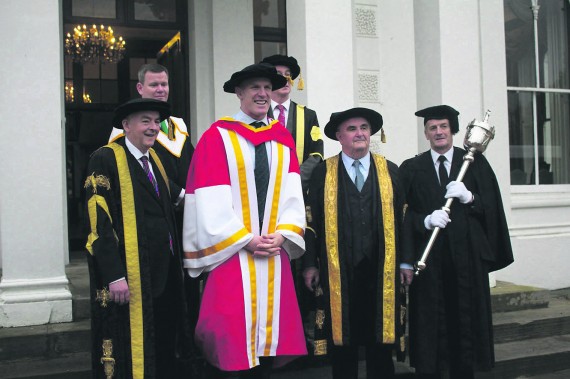 By Cora Power and Marisa Kennedy
Paul O'Connell was "delighted but a little embarrassed" to be honoured with a  Doctorate of Science from the University of Limerick earlier this month.
For three years O'Connell studied Computer Engineering in UL and he said that not finishing his degree is one of his "biggest regrets".
O'Connell is the 100th recipient of an Honorary Doctorate from the university since 1990 alongside the likes of Seamus Heaney, John B Keane and John Hume.
Speaking of the award, the former Irish captain said: "to get appreciated by your home university is something very special."
"When you grow up in Limerick, close to the city or whatever, the university ends up being a big part of your life."
O'Connell first came to UL at the age of four to swim, training 12 times a week in what was the 33-metre pool during the 80's.
He admitted that he had used "absolutely every facility on the campus in a sporting sense" before ever coming here to study.
"If you grow up in Limerick and come here as a student, chances are you'll have seen every square foot of the place before you set foot in the door. I don't think many world class campuses could boast that they play such a big role in the community."
As well as swimming, the Limerick man took part in hurling, soccer, camping and debating here on campus both before and during his time studying in UL.
"That's what's so great about it. UL ends up being every Limerick boy's playground and that's probably the biggest compliment I could give to the university".
Speaking about the recipient, Professor Don Barry said: "The awarding of a University of Limerick Honorary Doctorate is an occasion when we get the opportunity to honour those who have inspired, who have led with courage and passion and who have made great contributions in their fields of endeavour.
"Much thought, consideration and deliberation goes into deciding who is worthy… except when it is a real-life super hero, and particularly when his name is Paul O' Connell."
The former Munster player refused to rule out returning to the university to finish his degree.
"I think about it a lot. It's a big regret of mine, not finishing my degree."
While his schedule is hectic at the moment, he admitted that he has spoken to the university in the past about a possible return.
Balancing a young family, rugby, an injury and a new life in France has not been easy for O'Connell and he plans to focus on that for the time being.
"I probably have 18 months left of playing rugby and then I'll want to take a break for a while. Who knows, I could end up back here as a student again."
As a role model to his two young children, Paddy (5) and Lola (1)  O'Connell appreciates the values that sport can teach, hurling and rugby in particular.
"Paddy's really into soccer at the moment and I sit down and watch it with him sometimes. I can't stand it, I can't handle watching people diving constantly," he said playfully.  "Those aren't the values I want Paddy to have."
O'Connell believes sports such as rugby and hurling have great displays of sportsmanship where you, "congratulate your opponent if he hits you with a good tackle," but insists he won't be forcing his son into playing rugby.
Ahead of his impending move to Toulon, O'Connell spoke about the life-changing experiences his family will encounter.
"I'm just looking forward to all the experiences and all the knowledge it's going to bring me," he said.
With such little time left in his playing career, the Irish legend stated that he is taking every opportunity that is coming his way.
"When the time comes to move on, you have to move on…you've got to make the most of where you're going."
When asked whether he will miss playing rugby with Munster and Ireland, O'Connell said that he will envy the players but we won't watch their games with regret.
Being a true Limerick man, the city will always be close to his heart and despite moving abroad, O'Connell declared: "Limerick will always be my home and it will always be somewhere I'll come back to."