In 1968, a black artist launched her first solo exhibition American People. The display quickly became a talking point for its unflinching depictions of racial tensions.
#20: Die depicts the riots of 1967. Crimson blood splatters contorted, helpless figures with their haunted saucer eyes spelling pain, both animalistic and terrified.
The men and women wear business clothes, making the business class accountable for the violence.
In the middle of the painting sits two toddlers, a white boy and a black girl, clutching each other in terror as the war rages on around them.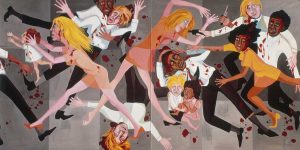 The most striking element of the painting is characters are interracial, conveying the universal damage brought by the conflict.
The artist Faith Ringgold later explained her motives behind the piece: "I became fascinated with the ability of art to document the time, place, and cultural identity of the artist. How could I, as an African American woman artist, document what was happening around me?"
Now living in California, the artist's lifetime of work remains as evocative and relevant as when it was first completed.
Painting is not the only medium Ringgold has used. Her most famous work is her story quilts, where the artist transformed a typically domestic craft into a politically loaded piece.
Now 90 years old, Faith Ringgold has paved an extraordinary career with themes of feminism, identity and segregation making her an excellent focus for the second instalment of Art Club.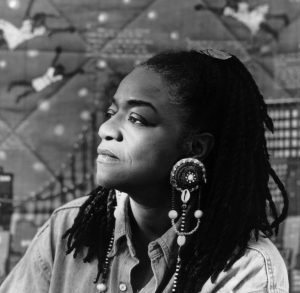 Ringgold grew up surrounded by creativity with the rich cultural movement of the Harlem Renaissance in full swing, setting a vibrant cultural backdrop to her childhood.
With a fashion designer mother and her father a storyteller, her creative flair was nurtured during a childhood plagued with asthma.
Ringgold has recalled her early years as formative for her art practice as she learned both how to sew and work creatively.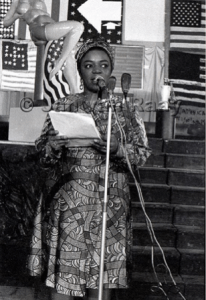 Determined to study art, she enrolled in a degree in Art Education at the City College of New York as it was the only art degree course available to women at the college in 1950.
During this period Ringgold married and had two children while developing her practice.
After being awarded her degree in 1955, she worked as a teacher before deciding to continue her education with a Master's degree.
A passionate supporter of the Civil Rights movement, Ringgold was arrested for vandalising an American Flag as part of a protest.
Ringgold's work is inspired by a range of cultures, and an avid love of travel is apparent in the African and European influences in her work that she developed during her travels to some of Europe's most famous museums.
Upon her return, she married Burdette Ringgold and created the American People series that documented the violence and tensions she was experiencing during the civil rights movement.
She later turned her hand to sculpture and producing quilts, incorporating autobiographical elements alongside a strong international influence to her choice of mediums.
After forging a striking career in art, Faith Ringgold became a professor and forged a literary career with children's books. She founded "Anyone Can Fly" to give a platform to artists of African heritage.
Her work maintains relevance and appeals to this present day due to her unflinching courage in creativity.

Ringgold has a rich and varied use of mediums, with the binding factor between all her work an uncompromising examination of class, segregation, sexism, and race.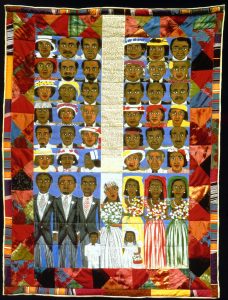 She transformed the traditional craft of quilt-making. This medium has a great personal and cultural significance in Black History as it was an art form practiced by slaves for self-expression and as a means for conveying identity, while the quilts were also used practically.
To display Black artist's rightful place in the American art world, Ringgold created several African-style masks painted with acrylic.
Employing her early education in sewing she created a series of fabric figures used for performance art.
Her early work often bears a striking shock value used to portray the political statements of the prejudice and discrimination rife in society, while her later work is more celebratory imagery of black heritage.
Ringgold's art has a folk-art style and her influences include Pablo Picasso and Jacob Lawrence.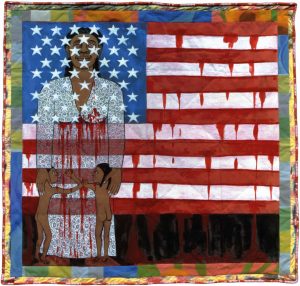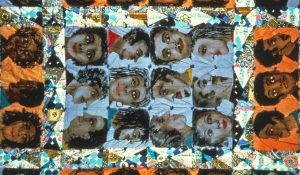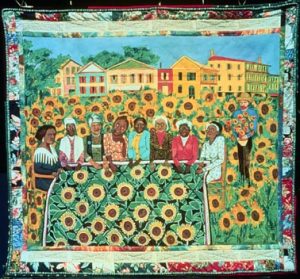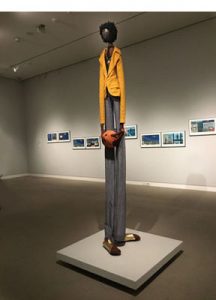 An Article– Faith Ringgold Will Keep Fighting Back by Bob Morris, The New York Times https://www.nytimes.com/2020/06/11/arts/design/faith-ringgold-art.html?auth=login-email&login=email
A Book- We Flew Over the Bridge by Faith Ringgold, Duke University Press
A Podcast- The Director's House, Faith Ringgold, 2018