Welcome to the first piece of a new series for Funnieamh! This series aims to provide a crash course in various influential figures from the art world throughout the semester. Arts editor Aislinn Kelly will make the weird and wonderful world of art accessible and a broad spectrum of genres and mediums will be explored.
Art can provide a valuable form of both escapism and inspiration during this isolated time and the hope of the series is a featured artist may start a reader on a journey of artistic inspiration and research.
The series will mix iconic and obscure artists from around the world with an aim to create a collection as diverse as art itself.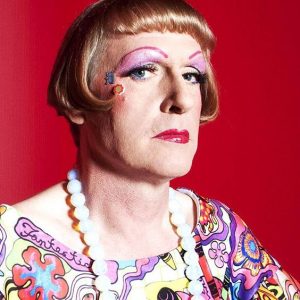 The first subject of the club is the inspiration behind the series. Grayson's Art Club on Channel 4 provided an oasis of calm and creativity during the chaos of the pandemic. The premise of the show was to encourage viewers into produce art to convey their unique circumstances during the lockdown.
Grayson Perry is a Turner Prize winning artist renowned as a beloved national treasure due to his whimsical yet accessible approach to creativity.  He has held exhibitions throughout the world with his evocative work and eccentric personality combining to create a fascinating figure to research.
Alongside his art, Perry's award-winning documentaries have explored identity, class, and transvestitism- themes that frequently appear throughout his body of work.
A common appearance of Perry would be as his alter-ego Claire, kitted in an outrageously kitsch dress while on a motorbike towing along his coveted muse, a teddy bear named Alan Measles.
"If there's one message that I want you to take away it is that anybody can enjoy art and anybody can have a life in the arts," Perry wrote as an introduction to Playing to the Gallery.
This accessible attitude encapsulates the ethos behind An Focal Art Club, making Grayson Perry a worthy first subject.

A common quip used by the artist in interviews is his dislike for cliches, down to the fact his mother ran away with the milkman.
Raised in Essex, Perry had a troubled childhood that featured an abusive stepfather. His teddy bear Alan Measles acted as a form of escapism from his anxieties and the bear continues to manifest in various forms throughout his work.
As a child, Grayson grappled with the conflicting desire to dress up as an army man and also as flamboyant woman. Without any prior knowledge of transvestitism, he was forced to suppress this inner conflict until he left his family home.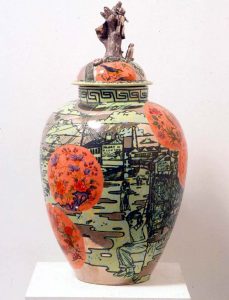 Perry studied art at Braintree College of Further Education before moving to Portsmouth College of Art and Design to complete his BA in Fine Art, where he graduated in 1982.
In London, he liaised with a free-spirited group named The Neo Naturalists who informed his early work and provided him with the opportunity to feature in various exhibitions while he lived in various squats with the group.
His art during this period mainly focused on performance and films. He later cited teamwork as a major deterrent for pursuing his ambitions in filmmaking.
Perry soon turned to ceramics, learning the technicalities of the craft through night courses. He is now renowned for turning the decorative medium into highly loaded contemporary pieces.
Following the success of his first ceramics exhibition, he continued to use the medium while also producing textile and embroidered pieces for his shows.
Winning the Turner Prise in 2003 brought Perry to national attention as the first potter to receive the award. The win sparked his career in broadcasting with Channel Four, producing the documentary Why Men Wear Frocks.
His relationship with class is also a point of inspiration, with a conflicting towards the art world as a working-class artist. He aims to dismantle the elitism of art and make the subject accessible to everyone, an ethos clear in his recent exhibition in the Manchester Art Gallery that featured art from a diverse selection of the general public to explore their experiences of the Covid-19 induced lockdown.
In 2015, Perry was appointed Chancellor of the University of the Arts London and was awarded a CBE title. Perry lives in North London with his wife Philippa, who is a psychotherapist. His daughter Flo Perry is an established writer and illustrator.

There are important figures to remember when examining Grayson's work. First, there is Alan Measles who is his childhood teddy bear and often manifests in various forms throughout his oeuvre.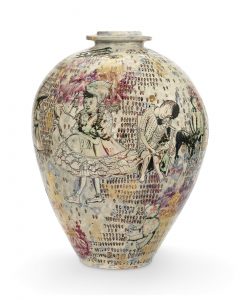 Secondly, there is his female alter ego Claire also appears frequently and often in particular contexts such as in "Golden Ghosts' where her image is used to loom over a haunting depiction of the Chernobyl nuclear disaster.
He is most famous for his ceramic vases and gaudy coloured tapestries that often focus on themes of identity and murky aspects of contemporary British culture. Classical domestic vases often contrast with the highly politicised inscriptions that challenge the piece's assumed decorative form.
Perry renders his ceramics by texturing the clay with designs and using glazing and photo-transfer techniques.
The intrigue of often violent themes conveyed in such a jarring manner dominates his work, covering everything from domestic and childhood abuse which are then contrasted  with idyllic familiar imagery, such as cottages and uplifting colours.
He often uses Adobe Photoshop in his practice, with his tapestries completed by transferring digital designs by a computer-controlled loom.

It's Never Too Late to Have A Happy Childhood (2000)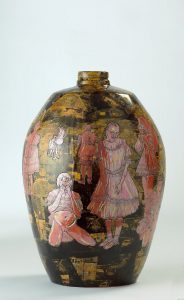 Famed for conveying his own life in his ceramics, this glazed ceramic pot is a brilliant example of his "guerrilla tactic," where features of the work's design are used to surprise and add humour to the viewing of the work. This pot explores identity, with childhood a frequent subject of exploration for Perry, intertwined with masculinity and feelings of rejection. The pink figures contrast a dark, decaying background, symbolising a soul discouraged by the expectations that surrounds it.
Saint Claire Wanks Across Northern Spain (2003)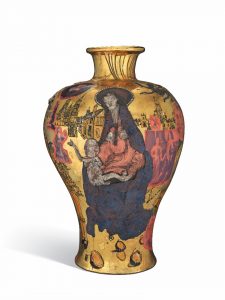 Accompanied by the shocking title, Perry appropriates typical religious imagery on this urn that features his photo transfer and intricate glazing techniques.  A mismatch of various iconography though-out history, the aged look of the Madonna and child resemble Gothic figures, with a contemporary background furthering their decay. This is a prime example of Perry's use of humour to spur questions about religion and society,
Expulsion from Number Eight Eden Close (2012)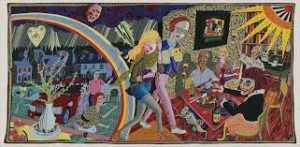 This tapestry made from silk, wool, cotton, polyester and acrylic explores a college student fleeing his upper class family, with their venture into freedom symbolised by a rainbow. Jamie Oliver looks down, perhaps a pun on modern domesticity and popular culture. This emulates the Renaissance masterpiece by Masaccio, The Expulsion from the Garden of Eden, displaying Perry's ability to adapt classical art references to a modern context.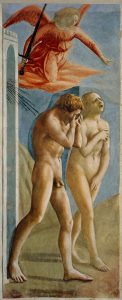 The Adoration of the Cage Fighters (2012) 
Famous for incorporating text with fantastical imagery for social commentary, this piece depicts an infant is stretching for its mothers smartphone in a bid to gain her attention. Note her glamorous dress and the pose evocative of a Madonna and Child, symbolising the icons the child is exposed to. Such icons are a Sunderland A.F.C football shirt and a miners lamp. The infant also appears at the front of the screen, showing Grayson's organic treatment of composition.

An Article-  Pot Luck by Lynn Barber https://www.theguardian.com/artanddesign/2006/jan/08/art.biography
A Podcast: Grayson Perry CBE on Talk Art, Season Four Episode One
A Book: Portrait of the Artist as a Young Girl by Grayson Perry and Wendy Jones
Follow Grayson Perry  on Instagram: @alanmeasles