At 89 years old, few artists have made a larger impact on the contemporary art world than Yayoi Kusama.
From spurring Pop Art to defining Minimalism, the iconic polka dot artist has an impressive body of work that explores mental illness, consumerism and the psyche.
Hailed as one of the most important living Japanese artists today, Yayoi Kusama has achieved global acclaim through her distinctive, obsessive approach to art.
Famous as the first pioneer of an all-immersive art installation, Kusama was often emulated and left uncredited by her male contemporaries.
Hailed as The Queen of Polka Dots, she is famed not only as an installation artist but also for her extensive paintings, poetry, books, and fashion.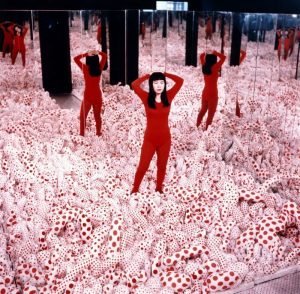 From Matsumoto, Kusama was born to a merchant parents. Her early inspiration came from the pumpkins on her parent's large wholesale seed farm. Pumpkins would transform into a frequent symbol reoccurring throughout her body of work.
At a young age, Kusama recalls feeling swamped by flowers and polka dots clouding her field of vision. These hallucinations inspired her art and multiple polka dots dominate her oeuvre.
Kusama cites a troubling childhood as her main reason to retreat into her unique and obsessive art. Despite her mother's disapproval, she produced drawings from the life of on their farm as well as her hallucinations.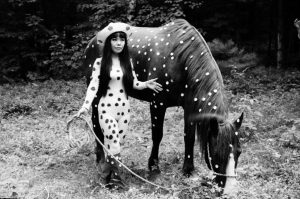 She was fascinated with smooth white stones at a nearby river, which materialised as dots in her work.
She remembers her childhood as being deeply unhappy, marked by a physically abusive father and an adulterer father.
Her mother would force Kusama to spy on her father's affairs, resulting in the young artist despising male sexuality and instilling an intense fear of sex.
Inspired by the consuming patterns of her hallucinations, Kusama titled her repetitive motifs as self-obliteration.
The artist attended the Kyoto School of Arts and Crafts and trained in traditional styles.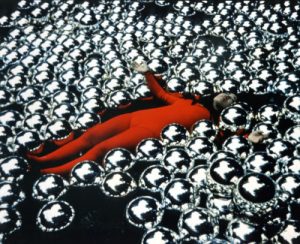 After an unsuccessful watercolour exhibition in 1952, Kusama began to take her inspiration from international artists as she fixated on American Abstract impressionism. Encouragement from Georgia O'Keeffe motivated her to move to the States in 1958.
Inspired by the ocean, she produced the Infinity Nets series, displaying her obsessively detailed repetitive designs and kickstarted the Minimalist movement. She came to public attention through her "happenings" where naked people were painted in polka dots.
Kusama began to explore psychoanalysis that led to her making her visions of the anxiety-inducing phallus a reoccurring image she christened "accumulations."
Despite not achieving commercial success, many male artists such as Andy Warhol ripped off Kusama's approach to art and this lack of recognition caused her to spiral into a deep depression.
She became a patient at Seiwa Mental Hospital where she continues to live there to this day.
It took a rediscovery of her work in 1989 by the Centre for International Contemporary Arts to revive interest in the artist's oeuvre, leading to her representing Japan in the Venice Biennale.
Her bold, daring work finally received acclaim with Kusama ranking as the most successful living artist today and the most successful female artist of all time.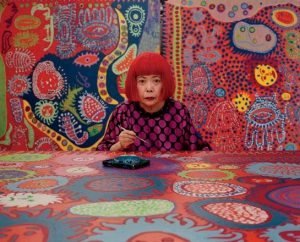 Kusama's art is often interpreted as an expression of her obsessive anxieties. The sense of infinity generated by thousands of dots and mirrors reflecting the environment.
Not only did drawing dots visualise her inner distress, but also the process helped her cope with the fear-inducing hallucinations she grappled with.
Her disregard for any other movement in New York led to the artist a pioneer in Minimalism and she also served as a highly influential figure to the Pop Art movement due to her use domestic objects to comment on consumerism.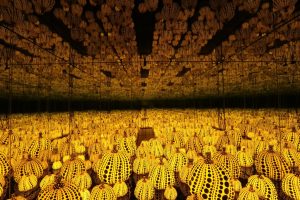 Kusama's accumulations articulate her obsessive-compulsive personality disorder, while also producing physical manifestations of her anxieties.
Immersive installations serve as a way to make the art encompass the visitor fully, creating a space that surpassed reality.
Kusama's performance art is also highly acclaimed, particularly body festivals which featured naked performers and dots to articulate her imagery of freedom.
To this day, she works in 60-hour stretches, trance-like she has described as a spell.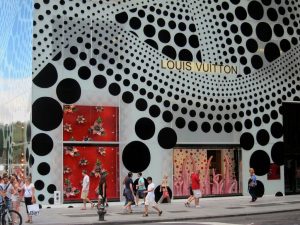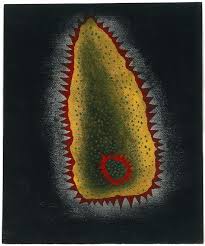 The Woman (1953)
This is one of the first watercolours Kusama displayed in America, with the abandonment of traditional Japanese practices for American ideas. The Woman depicts dots floating around an indistinguishable form. The bizarre and disturbing creation is interpreted as her struggles with despising sexuality and her mental health issues.
Anatomic Explosion on Wall Street (1968)
Kusama was exploring performance art, labelling them as "happenings" Performers would dance nude to bongo drums, and Kusama painted herself in blue dots alongside the models while walking with them. This performance was to protest the Vietnam war. The protest was ended after 15 minutes, and the performance was marked by Kusama's open letter to Richard Nixon which included the quote "you can't eradicate violence by using more violence."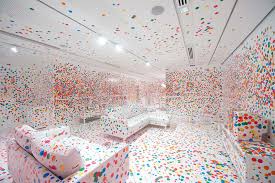 Obliteration Room (2002 to present)
The room begins as a blank canvas, resembling a domestic environment painted a sterile white. Visitors stick round stickers of various colours, shapes, and sizes and place them on the surface of their choice. This installation represents obsession and repetition to free herself from her mind's troubles.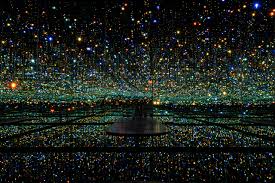 Infinity Mirrored Room- The Souls of Millions of Light Years Away (2016)
The series that began in the 1960s has repetitive paintings and sculptures included into an immersive environment. This has a dark chamber lined with mirrors, with lights coming from small LED s hung from the ceiling pulsating electronic polka dots. The lights and mirrors create an endless space. Only one visitor can come in at a time, and their body activates the environment.

A Book- Yayoi Kusama: Every Day I Pray For Love, David Zwirner
A Podcast- Episode 12, The Yayoi Kusama Phenomenon. The David Zwirner Podcast.
A Video