"I don't listen to what art critics say. I don't know anybody who needs a critic to find out what art is."
Remembered for a strikingly short, meteoric career, Jean Michel Basquiat is the embodiment of a troubled genius.
Having overcome poverty to lead an anti-establishment art movement inspired by the New York graffiti scene, Basquiat continues to send shock waves through the art world decades after his premature death.
One of the few black male artists to achieve international notoriety, his experiences with racism inform his work, contributing to his constant search for identity in a world where he felt the odd-one-out.
Continuing to inspire creators to this day, such as Kanye West and Jay Z, what exactly led to the superstar career of Basquiat and what defines his art that continues to draw millions of avid collectors to this day?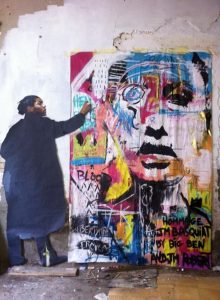 Jean-Michel Basquiat was born in Brooklyn, New York in 1960.
His father, a strict man, was Haitian and his mother from Puerto Rician descent.
Basquiat's heritage meant he was fluent in Spanish, French and English as a child and that multiculturalism would go on to influence his artwork.
His mother encouraged his love of art, taking him to museums and nurturing his natural inclination towards drawing at a young age.
After his mother was institutionalised when he was eleven, the artist endured a restless phase as he failed to settle into the many schools he was enrolled in.
Eventually leaving school at seventeen, Basquiat became a member of the New York City graffiti scene which was blossoming in the 1970s.
Here, he developed the character SAMO, an acronym which derived from the phrase same old shit.
SAMO was rooted in protest against the establishment, with the character appearing throughout Basquiat's solo work. The character received much attention and following a fallout with his friend and collaborator, the character was pronounced as dead.
He began as a graffiti artist and became a painter.
Rock legend Debbie Harry was the first to buy his work, before attracting Madonna's attention who also purchased.
The punk scene in New York was inspiring a new legion of movements in art and music, with Basquiat joining a band called Gray formed in 1979.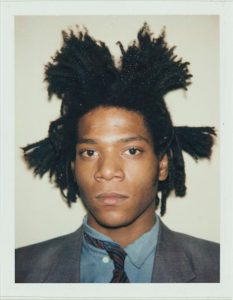 Basquiat left home aged sixteen to move out and sleep in friends' places, many of whom were graffiti artists.
He began crafting postcards and even managed to sell some to his icon Andy Warhol after a brief encounter. His band broke up when Basquiat's painting career began to gather steam.
Basquiat embodied a free, chaotic lifestyle that involved an open relationship with his girlfriend Alder, clubbing extensively and experimenting with drugs.
Despite this intense party lifestyle, he also had a strong work ethic and high artistic output.
After making his first million at 21 years old, Basquiat's lifestyle stepped up a notch with cocaine use and an intensely luxurious lifestyle.
His first exhibition was in Long Island in 1981 and he acquired his art dealer.
He moved to Soho where his first exhibition was a success, and the young star had the reputation of bringing chaos to wherever he went.
While he gained attention for his vibrant creations, he was disliked in the art world with many discriminating against him in reviews due to his medium of graffiti art and his race.
By 1983, Basquiat began to get increasingly dependent on heroin and while his career continued to skyrocket as he began to collaborate with Andy Warhol. When critics dismissed him as a mascot, a joint show was panned by critics which upset the young artist desperate for some degree of recognition from the establishment.
After Warhol's death in 1987, Basquiat began to deteriorate and isolate, striving to move away from art into a different creative field.
Alone in his Great Jones loft, he died after an accidental heroin overdose with his unfinished commissions spurring intense legal battles and the discovery the artist hadn't paid taxes for his last three years.

Despite a short life, Basquiat left behind a prolific body of work.
He questions identity, race, and taking samples from cartoons, commercials, and corporations.
Some critics dismissed his work as merely wall graffiti on canvas, but he was well versed in art history and abandoned his skill in figurative drawing for abstract in his late teens.
Inspired by Peter Max, Basquiat mixed text with painting on items he found on the streets such as doors, fridges, and tyres.
Drug-fuelled, he usually made the art on the site of the exhibition, producing twenty paintings within three weeks.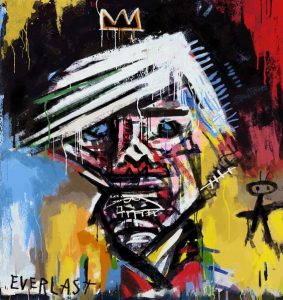 Wild colours and energetic markings define his work, he conveyed the energy and bubbling talent inside himself in a distinctive, bold way.
Often his work looks like a Modernist interpretation of African masks which he uses to explore his African heritage in his work.
A common thread throughout his oeuvre is the search for an identity as a black man in a white-dominated art world, with skeletal figures and religious references contemplating a sense of self.
His work is instinctive over the intellectual, however, while he was often patronised for being an uneducated outsider he was interested in art history.
Everyday experiences with racism informed his work as he grappled with feelings of being ostracised from the art world with lauded him and despite his fame, there is an inner turmoil always evident.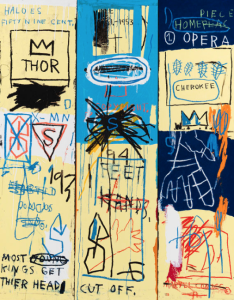 Charles the First (1982)
Conveying feelings of alienation and segregation, using household objects and abstractly conveying them.
His trademark violent brushwork defines the work. The combination of words and visuals contributes to the social commentary on racial segregation and inner turmoil.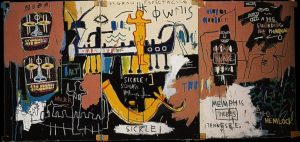 History of Black People (1983)
Encompassing three wooden canvases, this work accounts for the arrival of Africans to America, accounting for his heritage and steeped in visual references such as the Nile, and the words ENCLAVE, SLAVE, ENCLAVE are scrawled above one figure, alongside Spanish words. The painting is directed towards the commercial exploitation of black people and the abandonment of their heritage in replace of slave labour.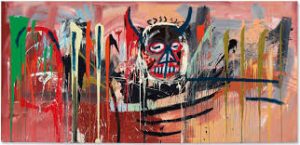 Devil (1982)
Basquiat is questioning the human identity, conveying the life of a celebrity artist grappling with his dizzying fame. His suffering is conveyed through the uneven strokes of paint conveying stress, abstraction with erratic streaks. The demonic figure is hidden behind the paint, lurking, masked by the allusion of art.

A Video:
The Chaotic Brilliance of Artist Jean Michel Basquiat- Jordana Moore Saggese for Ted-Ed
An Article:
The Enigma of the Man Behind the $110 Million Painting, Stephen Metcalf for The Atlantic
https://www.theatlantic.com/magazine/archive/2018/07/jean-michel-basquiat-artist-or-celebrity/561728/
A Podcast:
The Art of Jean-Michel Basquiat by Drunk Art Chat, Episode 34