By: Katie O'Donovan
I'm back on campus in UL for the first time in a year.
In the past year I've spent six months out on Co-op, and then in September, I went off to Leeds in England on my Erasmus+ placement.
Erasmus has, without a doubt, been one of the best experiences of my life so far. I had an absolute ball!
I'm studying New Media and English, and I thought "where better to go to study English, than England?"
I flew from Dublin to Leeds/Bradford Airport on September 10th. It was a short flight, only about 45 minutes long.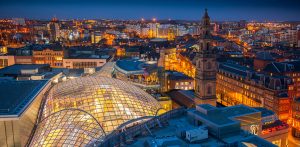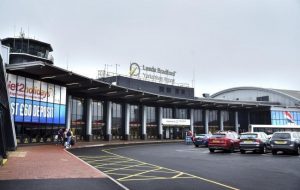 I won't lie – it was daunting at the start.
I flew over by myself, landed in a city I had never been to and one where I didn't know anybody. When I first landed, I was terrified; I hadn't slept a wink the night before!
I was greeted by members of Leeds Beckett University's meet and greet service, who organised a taxi from the airport to my accommodation.
My first impression of Leeds was that it was so different, worlds away from the small rural Irish town where I live.
I was surprised to see so many high-rise buildings and equally surprised that my accommodation was a tall apartment building.
I was on the 9th floor of a 25-story building, which meant I had a really great view.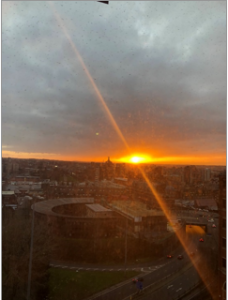 My accommodation was great; I was only 5 minutes' walk to the university, and about 10 minutes to the city centre, which had all the high street shops you could ever want.
For me, I loved getting to finally experience every aspect of college life, including nights out, as when I'm in UL, I commute, so I don't get to go on college nights out or get the independence of living on my own.
I was lucky that I had such good housemates there, in a flat of 6 girls, 5 of us got on really well and did loads of things together.
Speaking of nights out – the nightlife in Leeds is fantastic!
There are so many pubs and clubs to go to, no matter what you're into, you'll find something that you'll enjoy.
Nights out were very cheap in Leeds too, many clubs had cheap entry, and did cheap drinks, particularly on student nights.
University in Leeds was similar to UL, so I found it easy to adjust to classes there.
I found the culture in England much the same as Ireland, so I adjusted to life in the UK very quickly too.
The cost of living there was also incredibly cheap; I don't think I ever spent more than £20 on groceries at a time.
Overall, I had an amazing time in Leeds, and I would highly recommend it to anyone who's thinking of going on Erasmus but doesn't quite know where to go yet.
The Erasmus programme is definitely an eye-opener, and I would encourage anyone who gets the chance to do it, to go for it!
If I could, I'd go back and relive my Erasmus experience all over again.