By Shannon Sweeney
The "Anytime of the Month" initiative officially launched yesterday "in solidarity and support" with people experiencing period poverty.
The campaign intends to help people find free sanitary products on campus when they can't afford to buy them.
The launch was held in the Common Room in the Student Life building at lunchtime on Monday.
Founder Clodagh Guerin, says that a significant number of the population experience period poverty and not everyone who has a menstrual cycle identifies as female.
"This campaign is for everyone. One in five people experience this problem; we can't afford to exclude anyone," she said.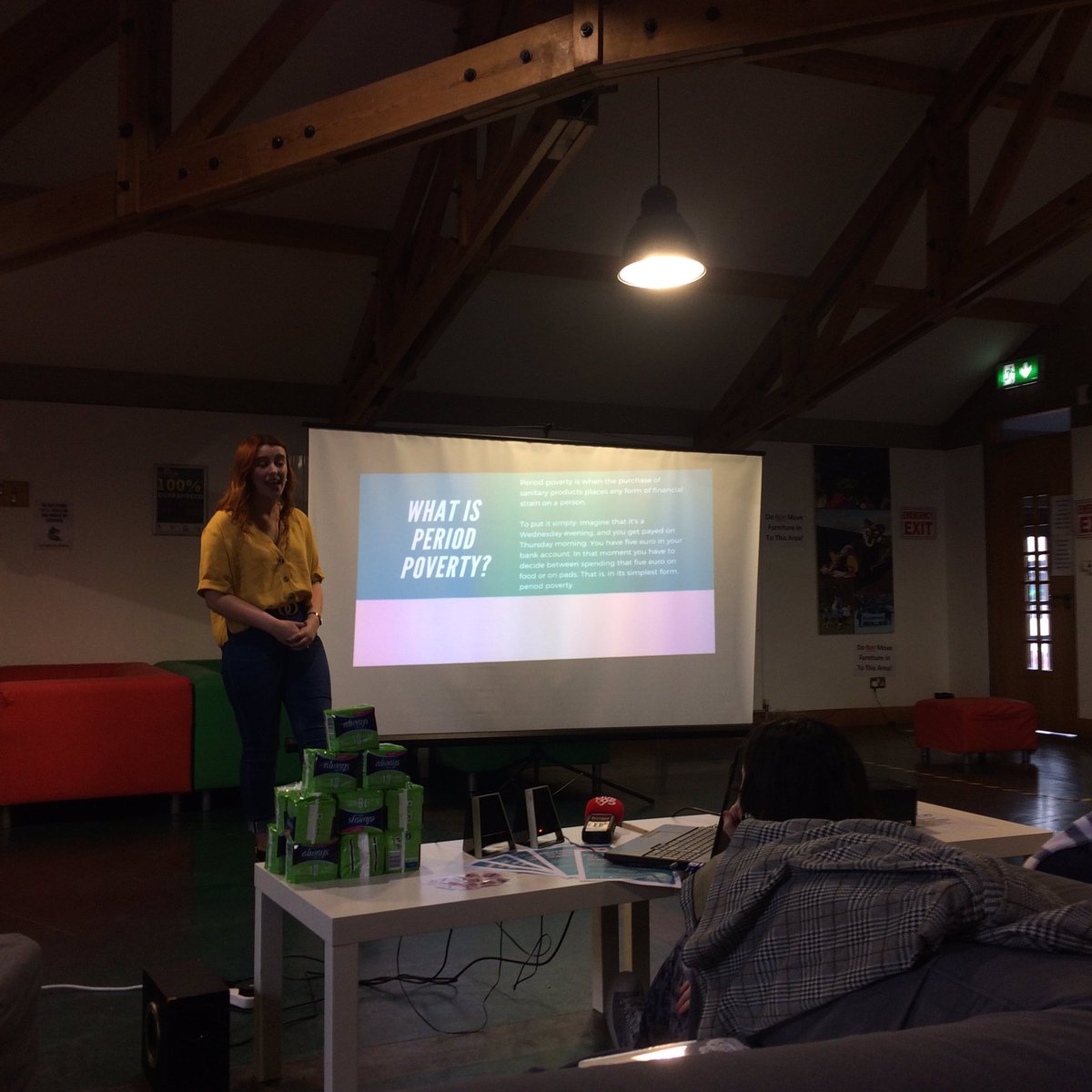 Period poverty is when buying sanitary products puts financial strain on the person who needs them, and it is becoming an increasing problem in Ireland and worldwide.
While the issue is synonymous with homelessness and Direct Provision, Ms. Guerin says students on campus also experience period poverty.
The "Anytime of the Month" campaign encourages people to wear stickers or badges that allow someone in need to know they can ask the wearer for help if they need access to sanitary products.
Posters to be distributed on campus will read:
"If you see someone wearing one of these stickers it means they are happy for you to approach them if you need access to free sanitary products. If you see this sticker on a door, it means that whoever is on the other side can help you also."
Speaking at the launch, Ms. Guerin said, staff at UL including Professors, Doctors and Ph.D. candidates have agreed to become ambassadors for the initiative.
According to the Irish Times last month, the estimated cost of menstrual products is €132 per year in Ireland.
According to Plan international Ireland's 2018 annual report, almost half of Irish girls aged 12-19 struggle to afford sanitary products.
According to Ms. Guerin, €20,000 is the estimated cost of having a period throughout a person's life, and the cost is often used as a reason not to provide help to those who need it.
"That is exactly why it needs to work, because they are too expensive, and like I said, saddling 50 percent of the world's population with a €20,000 bill isn't fair," she said.
This figure covers, sanitary products, healthcare and pain relief.
Currently, some of the bathrooms on the UL campus have dispensers where sanitary products can be purchased, but the products are expensive and not always available.
Ms Guerin says that there are three bathrooms around Red Raisins, one of the most popular sites on campus, but none of them have dispensers.
"Regardless of the fact you'd pay €2 a tampon, you couldn't," said Ms. Guerin.
If students or staff would like to get involved in the campaign, they can follow "Anytime of the Month" on Facebook and Twitter or follow the hashtag #anytimeofthemonth.
"This is grassroots, it's so minimal effort, there's no excuse," added Ms. Guerin.
While no financial donations are being accepted at present, donations of pads and tampons are welcome and can be dropped off at the following locations:
Student Life Sabbatical Offices
Clodagh's office in the Foundation Building.
Office of Dr Carrie Griffin in the Engineering Research Building.
The launch of the "Anytime of the Month" campaign marks the first day of UL's Women's Health Week which runs from Monday the 8th -Wednesday the 10th of April 2019.