By: Aisling O'Connor
An initiative to combat period poverty has been launched this week by a University of Limerick student.
Any Time of the Month, founded by Clodagh Guerin, will help provide feminine hygiene products to those who can't access them.
Ms. Guerin explains the idea for Anytime of the Month came from reading that the issue of period poverty was being put towards the Dail.
"I think it's so overdue because I remember being in meetings with other feminists and being in different university meetings and every now and again the issue of free sanitary products would come up, but some self-righteous person would be like 'its way too expensive, it's never gonna happen' and then the kinda reason I think it needs to happen is because it is way too expensive."
"When I used to think of period poverty I thought of it in the Trocaire box sense I guess like really extreme conditions of like negligence, and you can't sustain yourself, and you can't afford anything when that's just not the reality of it at all, and how it was broken down to me is like if you have if its a Wednesday evening and you get paid on the Thursday, and you have a fiver in your account, and you have to choose between getting a packet of pads or tampons and your dinner."
"It's that in any moment of your life you couldn't afford to have a period and I think when you approach it like that it's so much more reasonable so that's where the kind of idea came from and the idea came from as well that I think it's absolutely atrocious that as a student I paid around €1500 worth of fees every semester and I get very little support in return and I think that this is such a small thing that makes such a huge difference."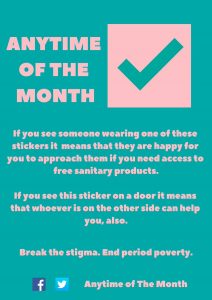 UL Student Life President, Ciara Jo Hanlon describes Anytime of the Month as a "fantastic and welcome initiative."
"I think period poverty is something that is coming more and more to the fore of Irish society with Homeless Period Ireland doing some great work in advocating for period poverty."
"The Anytime of the Month campaign can help absolutely anyone who has a menstrual cycle here on campus, for both those who may not be able to afford sanitary products and those of us who are just a little ill-equipped. I think I can speak for most women when I say that there are times we are not always prepared and rather than having to ask around the office or classroom awkwardly it will be nice to know that there are locations on campus where you can get a helping hand," the Student Life President said.
"We would love students to spread the word by sharing Clodagh's posters and to donate to our toiletries drive here in UL student life so we can supply the offices. We would love for staff both male and female to get involved and to kindly offer their office as an Anytime of the Month friendly space and most all we would encourage any student or staff that may be experiencing period poverty or who may get caught on the hop, not to be shy and to make use of the brilliant "anytime of the month campaign"
Ms. Guerin says that people can support Anytime of the Month by sharing and liking their Facebook page, and by donating feminine hygiene products.
"It is working on a donations basis so if you feel that you are able to donate either time or sanitary products to this cause I'm not taking any kind of fiscal donations at this time if you can donate a packet of pads or a packet of tampons or anything to this cause anytime as long as it doesn't put pressure on yourself we'd be glad to accept them."
"In the next few weeks we're gonna be setting up drop off points around campus so one of them will be my office in the Foundation Building for the next few weeks that's gonna be one, another office will be in the Engineering Research Building, hopefully there'll be a few more dotted around the campus that will be easy reach."