Yesterday, Aramark handed out flyers to UL students about their link to direct provision
The catering company who run most food outlets on campus were handing out flyers with 'The Facts' on campus.

An Focal's front page this month focuses on UL Student Life's campaign to end direct provision, highlighting Aramark's contribution to Munster's direct provision centres.

A distributor of the newspaper was handed a flyer while delivering copies of the latest edition.
The flyers state that Aramark provides "quality services" to help make the lives of their residents "more comfortable."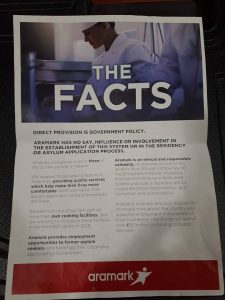 "Aramark is an ethical and responsible company," the flyers state.
The final paragraph urges readers to consider the thousands of Irish jobs that Aramark provide, and the support that the company gives to local businesses and suppliers.
Three weeks ago, ULSL announced the "Students Against Direct Provision" campaign.
During SoUL week, ULSL held an information evening on direct provision and its impacts, while the Feminist Society and the Islamic Society held a "Food for Thought" information event on direct provision.
University of Sanctuary recipient and UL student Donnah Vuma, who lives in a direct provision centre run by Aramark, responded to the flyer on twitter saying:
Doesn't matter how its framed, there's no way to justify instutionalised living which infatalises people. Fact is they are making massive profits out of the misery of so many including myself and my children! #EndDirectProvision https://t.co/2NEoYJzsty

— Donnah S Vuma (@donnahsvuma) November 7, 2018
Please do not be fooled. Mothers and babies are being denied food. People are living in unfit conditions. Businesses like this are profiting from the mistreatment of the vulnerable. Educate yourselves and do not fund this indecency. #EndDirectProvision #UniverisityofLimerick @UL
— Clodagh (@clodaghpippa) November 6, 2018
Blindboy, from Limerick's 'The Rubberbandits,' commented on the situation:
Bleak https://t.co/WqBI0qsEEQ

— Rubber Bandits (@Rubberbandits) November 7, 2018