It was in a "spirit of welcome" that the University of Limerick sought recognition as a University of Sanctuary.
That's according to the UL website, which also states the university "will become a key driver in raising awareness of particular issues impacting on the lives of refugees and asylum seekers as well as promoting a spirit of inclusion and welcome in the University, the city of Limerick and beyond."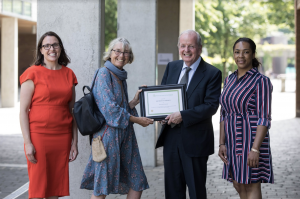 It's hard to see how a spirit of inclusion and welcome can be achieved when the company you buy your morning coffee from is the same multinational that denies a slice of bread to a sick child last week.
US owned Aramark operates the majority of food establishments on the UL campus.
They also run three direct provision centres in the state, including the one in Knockalisheen where University of Sanctuary scholarship recipient Donnah Vuma was denied a single slice of bread for her son who was suffering from diarrhoea and vomiting.
Aramark were handing out flyers to UL students about their involvement in direct provision this week.
A distributor of this paper was handed one while delivering copies of our latest edition which focused on UL students campaigning to end direct provision.
The flyers state that Aramark provides "quality services" to help make the lives of their residents "more comfortable," and that they are an "ethical and responsible company."
The flyers headline was "The Facts," but some facts were omitted.
The Direct Provision system was set up in 2000. It was initially pitched as an 'interim system' where people would stay for about six months while their applications for asylum were being processed.
The average stay for an asylum seeker is now three years, with many in the system over a decade.
​Compared to Irish medical card holders, asylum seekers are ten times more likely to suffer Post-traumatic stress disorder; five times more likely to be diagnosed with depression and three times more likely to be diagnosed with anxiety.
Aramark's flyers stated they have "no say, influence or involvement in the establishment of this system or in the residency or asylum application process."
But they have a say, an influence and an involvement in the everyday lives of asylum seekers. That is a fact.
In Knockalisheen, Aramark provide residents with toothpaste, a toothbrush, a towel, shampoo, shower gel and a toilet roll on arrival. These are replaced weekly.
They are allowed one extra toilet roll per month.
Asylum seekers are entitled to a weekly allowance of €21.60, just over €1,100 a year.
Aramark was paid €5.2 million for running three direct provision centres in 2016, which equates to more than €6,000 per annum per asylum seeker.
Three weeks ago, UL Students' Life (ULSL) announced their 'Students Against Direct Provision' campaign.
The Regional Writing Centre announced this year's 'One Campus, One Book' is 'This Hostel Life', by Melatu Uche Okorie, a woman who spent eight and a half years in direct provision.
UL Students Life centre, University Concert Hall, Irish World Academy and the Glucksman Library, along with the main building, the languages building, the health sciences building, the millstream building, the Schrodinger building and the PESS building, are all accepting donations of toiletries for those in direct provision.
It seems that everyone in UL is coming together to show solidarity and support with those in Direct Provision, but there is one crucial voice missing.
The voice of our President.
It is time to hear that voice call for integrity and basic human decency.
Many of your students and staff stand with those in direct provision.
Who do you stand with, Mr President?
Nicole Glennon,
News Editor of UL's Campus Newspaper An Focal