By Erin Dyer
While many of us are only now settling back into the swing of college life, the weeks are well and truly flying past us.
We're now in week four, and this means AWARE week is upon us.
An initiative set up by UL Student Life, the week is centered around many of the issues college students are faced with today.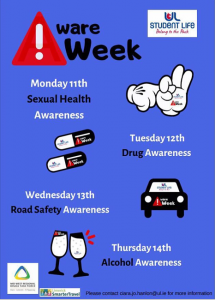 Monday 11th
The week kicks off on Monday with Sexual Health the theme of the day.
For those of you in need of them, there are free condoms and lube available at the Student Union. Rag week is coming up soon so don't miss your chance!
There is also the launch of the IT STOPS NOW! Campaign at 13:00.
Taking place at the back of Stables, UL Student Life is unveiling their new mural as an attempt to end sexual harassment and violence in 3rd level institutions.
To finish the day's events, there are consent workshops taking place in the Student Life Courtyard meeting room from 15:00-16:00.
Tuesday 12th
Tuesday's events are centered on raising drug awareness.
The message of the day is to keep an eye on social media, as many of the events are set to take place online.
There is an online drugs clinic, with the goal of answering any and every question students have. UL Student Life is also launching it's "It's always safest not to do so but if you do…" campaign.
The big event of the day is set to be the Chemsex Workshop.
In partnership with Mid-West 3rd Level Drug and Alcohol Initiative, the event will show a documentary on the practice of "Chemsex."
This will also aim to show the Irish perspective, and there will be an opportunity for students to ask their own questions at the event. It takes place in Limerick School of Art and Design at 6 pm.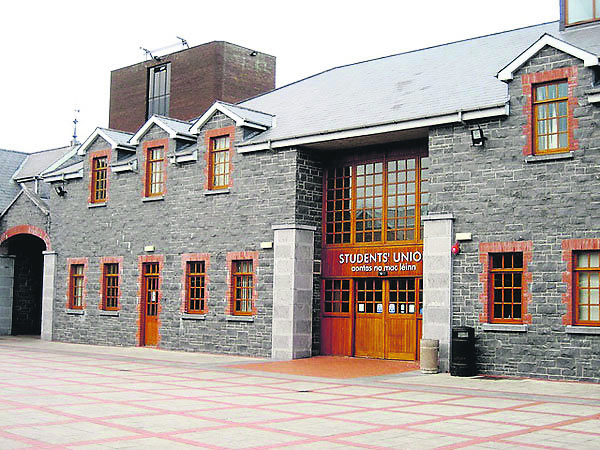 Wednesday 13th
Road safety is the topic of the day.
Students can avail of free high visibility gear in the courtyard from 12:30-14-30.
In partnership with RSA and UL Smarter Travel, the events are aimed at ensuring students are safe on and around the roads.
Thursday 14th
On Thursday the focus is alcohol awareness.
With events taking place in the courtyard from 12:30-14:30 in the courtyard aimed at raising students awareness on the issues associated with alcohol.
There are a variety of events throughout the day, including a beer google challenge and a DJ playing in the courtyard.
Not to forget Valentines Day, there are some V-Day treats and your very own hugdealer (if you need one).
To cap off the week, the Aware week quiz is on in Scholars at 19:30. Round up your woke pals and see just how AWARE you are. There are prizes to be won so don't miss out!