After the success of her novel turned award-winning TV series, Sally Rooney's new book is what everyone is  talking about, but is it truly worth the hype? 
In this novel, a famous novelist named Alice meets Felix – who works in a warehouse – and spontaneously  asks him to join her on a work trip to Rome. At the same time, in Dublin, her best friend Eileen is trying to  get over a break-up by flirting with Simon, her lifelong childhood friend. Through a third-person narrative,  the author tells us the intertwined stories of four young people who are having trouble managing life and its
responsibilities.
It would not be a Sally Rooney novel without palpable tension between millennials. They are attracted to  each other, have sex, argue, break up and get back together as they worry about the disheartening state the  world is in. A merry-go-round of will-they-won't-they.  
There is no doubt that with Beautiful World, Where Are You, Rooney takes her writing a step further. There is  something remarkable about the way she writes details without being invasive. Do not read Rooney if you  are interested in groundbreaking plots – I find her books to often be plotless. 
Not far from Conversations with Friends and Normal People, her third novel is character-driven. The  dialogues are sometimes awkward, which only makes them more relatable. Despite their occasional  obnoxiousness, Alice, Felix, Eileen, and Simon can get under your skin – if you are willing to let them. Who  knows, you might even find yourself caring about them as I did.  
In a series of emails, Alice and Eileen have lengthy conversations about anxiety, beauty, happiness, sex,  class, capitalism, faith, language, and disillusion – among other things. I found those exchanges to be a bit  tiresome and at times pompous. Regardless, the topics discussed were often thought-provoking, which I quite  liked. 
At some point, Alice discusses contemporary literature and the fact books about relationships are often seen  as less important. It seems to be a nod to Rooney's own style, as if she was acknowledging what her  detractors criticise about her writing.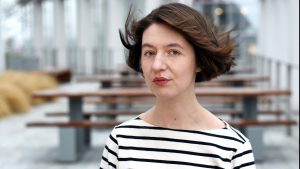 Beautiful World, Where Are You is filled with those beautifully human interactions we were all craving for  while in lockdown – long chats with loved ones we had not seen in ages, and the longing to have someone to  exchange with. The novel is a love letter to what we vividly missed over the past year. The protagonists try to  find beauty in the ordinary – aren't we all guilty of this?  
Reading Beautiful World, Where Are You almost felt like being a witness to people's most quiet and intimate  moments. To me, it was undeniably well worth the hype.