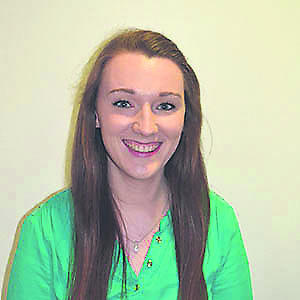 By Ciara Corcoran
It's hard to believe it's already the last edition of this semester's An Focal, time has gone by so fast! As this is the last issue until next semester how about a semester review?
What you've achieved for students since starting? 
Since the start of our term there has been a lot happening. The welfare office is always a busy place and without the help of the Welfare Team I'd be lost. They are a fantastic group of students who give up their free time and come up with some fantastic ideas and initiatives to do throughout campus. If you fancy being one of these amazing people and help look after the Welfare of your fellow students come down to the SU Hub at 6pm every Wednesday or send me an email at suwelfare@ul.ie if you'd like to get involved.
As you all know we've been working hard to ensure the best medical and counselling services are provided in UL. We have secured an extra 20 sessions of counselling per week. We have also been guaranteed that we will have at least nine general medical sessions per week along with one STI and two contraceptive clinics.
On a regular basis I have meetings with Declan Aherne, Head of Counselling, to ensure there is good communication and feedback. These meetings have become invaluable and have given us the opportunity to have an input into the service provided to you and ensure that any issues arising are ironed out as soon as possible.
A number of weeks ago we called for nominations for this year's Charity Week charities. I received over 25 emails from students nominating their favourite charities then had the immensely difficult job of narrowing them down to eight. Four were then chosen in Exec and brought to Student Council. I am delighted to announce that our 4 charities for this year are:
Corbett Suicide Prevention Patrol
Bumbulance
SVP Drop in Centre
Blood bike groups of Ireland
Keep an eye out next semester for more information about each of the charities and plans for Charity Week.
In Week 7 we held Console suicide awareness and intervention training which was a huge success. All 50 spaces were filled in no time and many more were put on a waiting list. It was fantastic to see so many of you willing to give your time to learn a fantastic skill with the hope of helping those around you. I have to thank Liz for all the effort she put into the training and Console for providing a fantastic learning experience for all who attended.
An initiative recently kicked off in the Union was the Wolf Wristbands. These bands are aimed at reminding all students what the Union, C&S, and fellow students mean to each other and the strength we have to support each other. Proceeds from these bands will go towards mental health initiatives to support UL students.
The Aldi bus is continuing this year and is always busy. It's a free bus to Aldi on a Monday evening at 5pm and 7pm. The bus will pick you up and drop you off at whatever on campus village you're living in. Email aldibusul@gmail.com to book your place.
ULSU made a leading step a few months ago by introducing two gender neutral toilets to the Union. There has been nothing but positive feedback from this initiative which has received both local and national media attention. This has become a great asset to our union and our UL community has moved a step in the right direction towards equality for all.
Campaign weeks are a large part of what I do and this semester was jam packed. World Suicide Prevention day was marked in Week 1 with a UL Cycle Against Suicide. Week 4 was Physical Health Week with collaboration with First 7 Weeks, Smarter Travel and so many more. Physical Health week saw a huge variety of activities, from cycling challenges, to breastfeeding tips and a Par-Tea.
Week 5 was Sexual Health and Guidance (SHAG) Week and with almost 180 of you at the sex quiz we can safely say it was a success. Mental Health Week was held in Week 8 as a chance to get away from the stress of assignments and mid-terms. We had colouring in the Hub, tea and chats, and mindfulness and positive thinking workshops throughout the week.
Week 11 is now Drug and Alcohol Awareness Week so keep an eye out for all the events happening. We will be holding a non-alcoholic event, having some fun in the courtyard (weather dependent!) and providing you with drug and alcohol information.
On a day-to-day basis life has been continuing here. I've been dealing with accommodation issues, financial queries, childcare bursary and hardship loan applications, Student Assistance Fund assessments, student drop-ins and a variety of meetings.
What you're working on still 
Even though this is the last issue of An Focal this semester work is still on-going here. We are still working on the specifications of what we want from the medical centre both now and in the future. I'm also working on next semester's campaign weeks including a Mental Health Week, Road Safety Week and Love Your Body Week. I'll also be working with Killian in marketing about getting as many of you as possible to get yourselves a wristband and donate towards our mental health initiative fund.
Also, we will be holding a Christmas party for a limited number of students and their children. We anticipate that this will be held in Week 13. Santa will be there and there will be a present for each child. Make sure to register your child by emailing suwelfare@ul.ie before November 23rd.
What you're hoping to achieve before the end of the academic year
By the end of the academic year I hope to continue the work started this semester. We hope to provide another suicide awareness and intervention training and I want to complete my finance guide. I'm also hoping to continue working with Mary I and LIT SUs on a project we're getting underway at the moment. I also hope that we can do our utmost to secure another full time counsellor in the counselling centre.
Most of all I want to ensure that I'm there for you as much as possible throughout the year. My door is always open, I'm here to help you so call in if you ever need anything.