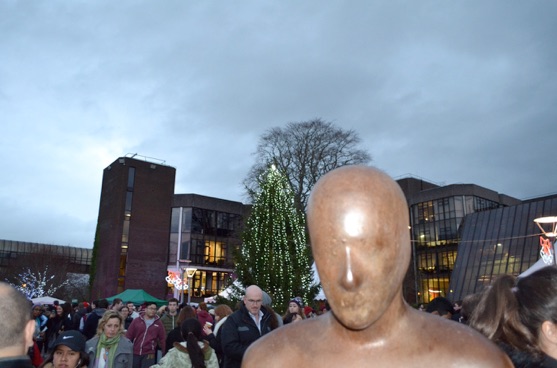 By Seamus Toomey
On Tuesday, just after 4 o'clock Professor Don Barry (President of the University of Limerick) had the privilege of hitting the switch and lighting up the plaza's sizable Christmas tree. To the backdrop of students and families and the sounds of cheering and clapping you knew Christmas had arrived. Students queued for mugs of mulled wine and sipped gleefully looking up at the newly lit tree.
Everyone seemed merry and despite the chill in the air we were all glad to get a break from the rain that's been plaguing us. The Christmas market was as busy as it always was and people queued for salads and bagels and all sorts of bits and bobs all day. One stall had carved wooden pieces that students seemed to take interest in, no doubt buying presents for their parents. Wrapped up and well fed the students gathered en masse for this one occasion, the one that lets us know yes now you can go ahead and don your Christmas jumper and blare some Pogues from your car speakers.
The small collection of the UL community enjoyed fire breathers and music before the light show and some carols from a choir of primary school children. It was very much Christmas. Except the fire breathers – they're just awesome any time of year. I went about the place for a while with my camera and got a few pictures, people in their merry moods posed and smiled, holding each other close in the cold December air.
Afterwards the plaza returned to normal and as the night sunk in the lights grew brighter and lit up more and more of the plaza. The students dissipated and went back to their studies having to appreciate the tree and lights from afar in the library. The market too, was disassembled and people went on their way. Study week is back on after that all too brief break but hopefully it offered our busy students that warm homely Christmas feeling that they miss while being away from home.
Merry Christmas from us all at An Focal and have a happy new year!