By: Aaron Pang
"I believe UL not having an entrepreneurial office or space is really kind of denying students' opportunity," UL Student Academic Officer Colin Lynch said.
University of Limerick (UL) is in the only university in Ireland that does not have an entrepreneurial office dedicated to students, according to Colin.
"We have fantastic projects coming out from UL now. A lot of students have their own business ideas, but they don't have the skills to get the ideas off the ground," he added.
What is the entrepreneurial environment in UL?
How did students with entrepreneurial ideas get their support from the university?
Kemmy Business School (KBS) International Entrepreneurship Management Course Director Brian Shee said: "University of Limerick (UL) and KBS have been working closely with student societies to help students to nurture entrepreneurship, innovation and creativity characteristics over the years."
To help students with entrepreneurial knowledge, KBS has established various modules and a Master program.
He teaches a class of around 500 students each year to give an introduction to entrepreneurship and innovation.
They also teach students with entrepreneurial ideas on how to identify opportunities and how to generate ideas.
"I always say to my students, there are millions of ideas, but only very few genuine opportunities," Brian said.
Jack O' Connor is one of the students in that module came to him with a good business idea and got it off the ground with the help of faculty of KBS and Enactus UL.
"Students need to become familiar with the fact that real-world business is not as black-and-white as sometimes laid out in a business textbook. There are pitfalls, traps, and opportunities that cannot be fully prepared."
O'Connor is the founder and team-leader of the project Moyo Nua.
His project was recently announced as winners of Peace Through Trade competition by the World Trade Centers Association (WTCA), which aims to sustainably improve the health and wellbeing, economic stability, and educational attainment in both developed and developing nations.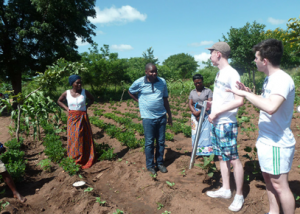 The project originated from Jack's invention of ergonomic seed planter designed to improve the precision of seed planting and save resources.
Due to varying revenue streams, the planters now are being produced in Malawi and given to farmers in need at no cost.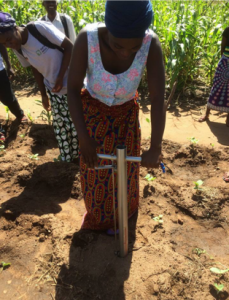 To coincide with this, they are also running educational workshops in primary schools and retirement villages in Ireland and establishing an e-learning platform to teach Malawian students practical business skills.
"The project is quite a large undertaking, so having a solid support network within the university has been vital to its success to date," Jack said.
"The members of KBS, most notably Briga Hynes and Brian Shee, have provided in-depth support and advice for every facet of Moyo Nua," he added.
The other significant element for the project's success is Enactus UL, the Irish based branch of an of an international organisation that assists university students engage in Social Entrepreneurship activities.
"Enactus UL has been instrumental in the development process of Moyo Nua. The project was born within Enactus UL, and has grown through our association with them exponentially" he said.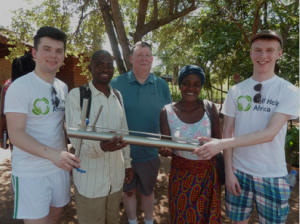 The team represented Ireland at the Enactus World Cup in Silicon Valley, California last September.
During the event, they got a chance to introduce their project to WTCA.
Apart from the undergraduate modules, the Master program is also playing a great role in helping students with entrepreneurial knowledge.
The Master program aims to provide students with the specialist knowledge and a practical understanding of the key tasks required to establish, manage and grow a new venture in a challenging international business environment.
Students in the MA International Entrepreneurship Management will do a business plan as a replacement to thesis, which allows them to have the option to work on the real business.
"They take everything they have learned over the year and spent the summer in turning all that into a business idea in the end," Brian said.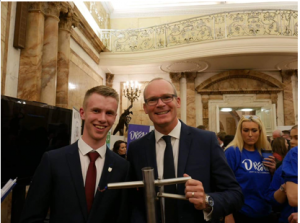 Last year, 5 of 15 students in the program have started their business up out of their idea.
However, the great achievements by KBS can't hide the fact that UL doesn't have its own entrepreneurial office to offer support to a wider range of students.
Currently, the UL Entrepreneurial Society, Nexus Innovation Centre, and Enactus UL are working together to provide entrepreneurial service to students, according to Brian.
"It is vital to get this (entrepreneurial office) created. It will give students a go-to point where they can meet up, get help and mentorship, find out about funding, competitions and so much more. Students could practice pitching and get feedback on their pitches," UL Entrepreneurial Society Co-president Gabriel Denys also said.
"The University definitely needs a centre for student entrepreneurs that is free and accessible to all students and to create a network of alumni entrepreneurs that will help others grow." He added.
Now, with the help of UL and KBS, Entrepreneurial Society is taking the role to build a network of local entrepreneurs and invite business owners, CEOs, and managers to come in and give speeches and take part in Q&A session.
"It is imperative that UL establishes an Entrepreneurial Office for students. It is great to see plans for the development of the city campus to be dedicated towards business activities," Jack also said.
The UL Student Union President and Deputy President will be actively lobbying for a dedicated Entrepreneurial Office for students on the Governing Authority, according to Colin.
"We need to get backing of staff members, members of the non-governing authority, student bodies. We need people behind us, so we could get it moving. It does not like just popping up an idea. We need to get faculty and students behind us." he said.