By Breda Graham
It has become an everyday normality in Ireland to hear about a missing person, with the reports of missing people rising by 3,766 from 2003 to 2013.
It is normal to scroll down the newsfeed of social media sites such as Facebook or Twitter and see posts about an ongoing search for a missing person or to turn on the radio or television only to hear the latest update on the news bulletin about an abduction or kidnapping.
What some people don't know is what is actually involved from the moment that person is reported missing to the moment they are found.  This time period is known as a search operation and is run by An Garda Síochána and many Search and Rescue organisations across the country.
One of the largest Search and Rescue Units in Ireland is the Civil Defence with 4,500 volunteer members who are trained in Casualty First Aid, Search and Rescue, Auxiliary Fire Service, Radiation Monitoring and Radio Communications.
The Civil Defence is a voluntary Search and Rescue organisation that assists local communities and acts as a second line of support for the front line Principle Response Agencies such as An Garda Síochána, the Nas, the Fire Service and the Irish Coast Guard.  The organisation is the primary statutory organisation volunteer base of the State.
In the event of a search for a missing person, the Civil Defence are directly contacted by An Garda Síochána and deploy their search and rescue teams who are equipped to coordinate a search operation.  Civil Defence are briefed by Garda and a profile of the missing person is built, made up of events leading up their disappearance and vital information, such as medical history. This profile is extremely important to the search operation.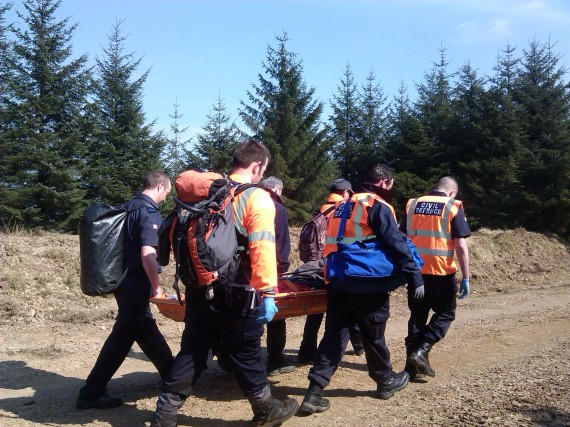 Civil Defence Search Managers are first to be briefed by An Garda Síochána.  The Search Managers are responsible for coordinating the search and deploying their search teams accordingly.  Tipperary Civil Defence Search Manager, PJ Graham, said "It is important for us to be called in early in the search and to obtain the correct information in relation to the missing person to allow the most appropriate search techniques to be deployed."
Radio communications are set up so that all team members searching in the field can contact the control centre ,who works directly with An Garda Síochána, to make quick efficient decisions should the need to do so arise during a search.
Tipperary Civil Defence Communications Instructor, Bryan Ely, said, "All radio traffic is monitored by trained radio operators on our own network as well as coordinating with the Principle Response Agencies.  The job is very rewarding but can be difficult coordinating all assets involved."
Speaking on how Civil Defence are equipped for searches, Principal of the Civil Defence College, Róisín McGuire, said "The Personal protective Equipment (PPE) issued to Civil Defence volunteers in order to carry out their tasks in all environmental conditions is of a very high standard."
"During a search Civil Defence volunteers can provide detailed maps of the area concerned, this allows sectors to be identified and searched.  Civil Defence has an independent radio communications system in place, this also includes GPS and TETRA, which allows search managers to identify exact locations of responders during a search and make direct contact with the Gardaí or other PRA's as required. In addition, the Civil Defence has search dogs and UAV's available as additional complimentary resources."
Brendan Qualter, Civil Defence officer of Galway Civil Defence, said, "Large crowds are always difficult to manage.  Some feel that they are being left out.  It is important to keep those large groups in the loop of what is going on."  Speaking on the management of other search groups, he said, "The key with other groups is that the search management must be firm.  In a lot of cases they would be deemed as ordinary members of the public.  Groups arriving at searches should produce documented proof as to what training they have and are insured to work within the scope of training."
Róisín McGuire believes that there is an excellent working relationship between An Garda Síochána and the Civil Defence.  "This is replicated with local Gardaí and Civil Defence Officers and volunteers, particularly when both organisations have trained together or been involved in a missing persons search.  Every time we train or work together the relationships are getting stronger and both organisations are building on these relationships."
The first National Search Exercise involving The Civil Defence and An Garda Síochána took place in December 2013.  This search operation that consisted of Senior Garda Management and Garda Instructors of the Garda College and Search Managers, Team Leaders and Search Team Members of Civil Defence was an opportunity for all involved to see how well An Garda Síochána resources and Civil Defence resources can be used to the best of their advantage during search operations.  The day was a success with all missing persons being found.
During an address, The Minister of State at Department of Defence, Paul Kehoe, said he was delighted to see the working relationship between An Garda Síochána and Civil defence and praised both organisations for their vision in planning such an exercise.
Training days such as this are carried out by varied Search and Rescue organisations throughout Ireland and are vital to the preparation for a real call out.  They also are put in place to test each person's skills and abilities.
Civil Defence is an "invaluable resource" to both the front line emergency services and to members of the public when it comes to missing persons search operations, according to Róisín McGuire.
Statistics from the Garda Missing Persons Bureau show that the number of reported missing persons has risen from 3,987 to 7,753 from 2003 to 2013.  These statistics also show that the number of outstanding missing persons has dropped from 52 to 15 over those same ten years.
These figures depict that the number of missing persons in Ireland is rising but they also illustrate that more of these missing persons are being found with a drop of 37 outstanding missing persons from 2003 to 2013.  It is evident that Ireland's Search and Rescue organisations are vital in a country where this issue of missing persons is increasing.
The work that these organisations do and the dedication that their members invest in to these search operations can mean returning a missing person home to their family and continuing to lower the rate of outstanding missing persons.