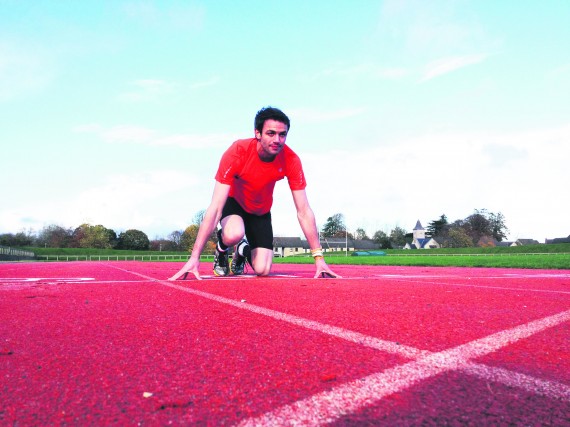 (Photo: Rory Lewis)
By Seamus Toomey
Comfortable and confident Thomas Barr greeted me with a firm handshake and a cheerful smile, wearing a bright vibrant multi coloured jacket he exuded a sense of happiness.
After a few minutes of pleasant chatter we got down to business and I started with a few questions eager to hear about the man who's, indeed, setting the Barr for not only Irish athletes but UL's up and coming.
Thomas Barr is one of the few who are heading to the Olympics in Rio in 2016 and he described the feeling as "kind of surreal" seeming still not to really believe what he's accomplished.
He recently brought home Ireland's only gold medal from the World University Games in South Korea with his 48.78 second run in the 400m hurdle final.
He's been training since he was 9 years old and admittedly says he was never a top runner.  That is until the past 4 years when he came to UL and began training seriously.
"When I came to Limerick the last 4 years is when I started to take off."
The Athletics club were a great club to help Thomas achieve what he has so far, even the varsity competitions have helped he said saying they take away the pressure, you just go on the day and do your best.  A big difference to the pressure an international competition holds such as the WGU and what that can put on you.
Barr explained that he was ranked favourite for WGU 2015 and that he was relieved more than anything just to have performed well on the day. "With expectation comes a lot of pressure, glad I was able to deal with it and pull it off."
"Probably the biggest win I've ever had."
Has his win at WGU gone to his head? Nope Barr says it hasn't even really sunk in yet, he even seemed sceptical that it will any time soon.
"Still hasn't really set in, don't know if it will because I'm still in the middle of season still working towards the World Championships."
So what's Thomas Barr doing with his training right now for this ever approaching competition, well if you think he's upping the ante and killing himself you'd be wrong, he says that currently he's trying to maintain and keep healthy and that the real hard work will come in October to March .
Never shy of staying busy he's now doing a masters in sports performance and nutrition in UL and believes his nutrition has improved greatly from this and likewise his overall health and performance.
Having an Olympian at the dinner table won't be a shock for his family though as they've had many dinners with their other child, Thomas' sibling Jesse Barr who's also an Olympic 400m hurdler having competed in the London 2012 Olympics.
Thomas puts the success of the family down to a combination of good genetics and strong work ethic saying it's a "mixture" of the two, as well as being afforded everything an elite level athlete needs "really good coaching, well looked after, we have everything you need."
With the WGU 2015 win being Thomas' biggest to date his goals for Rio are to get his time under 48.5 seconds which he stresses is such a hard thing to do and it could take the entire year to shed just .2 or .3 of a second off his current times.
But he won't be alone in his efforts to do that with everyone involved in the Athletics Club offering their advice and encouragement to help his motivation and training and all of us here in UL are wishing him the best in his important year ahead.
"For the strength of the pack is the wolf and the strength of the wolf is the pack" – Rudyard Kipling