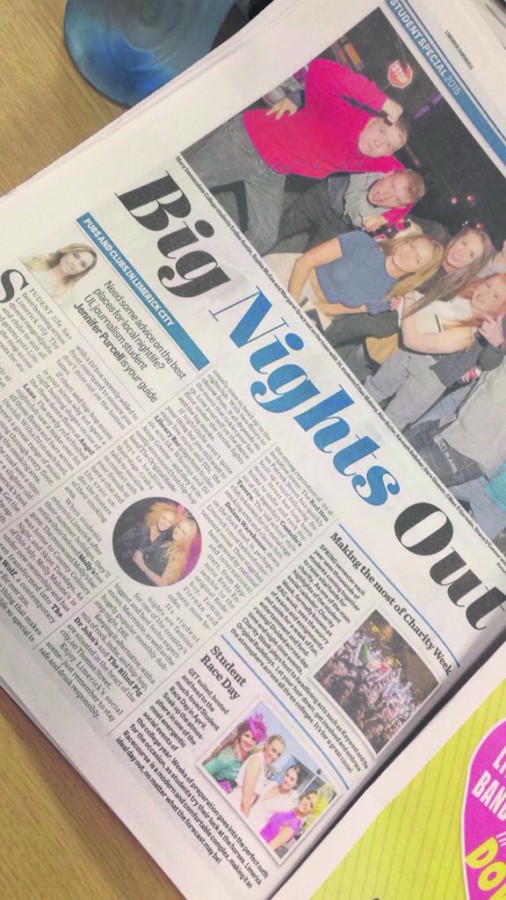 By Jennifer Purcell
Choosing your co-op placement can be quite a daunting and stressful time, where do you even begin? I am a third year Journalism and New Media student, I am currently on my co-op placement in the Limerick Leader. Although I had never imagined myself working in a newspaper, now, I couldn't imagine myself anywhere else.
The best advice I could give about choosing co-op is to choose carefully. Don't just leave it last minute and get stuck in an environment you're not comfortable in. Remember, you are there for six months, the last thing you want is to be stuck making tea!
Co-op can be the most valuable six months of your life, if you do it right. It's a platform to prepare yourself for the real world – life after classes and lectures. In essence, to put the theory into practice.
For me, as a journalism student, I did quite a lot of blogging. I had, and still have, high hopes of working in a magazine in the UK -someday. Feature writing is where my passion lays, so never in a million years did I think I could write hard news, and write it well.
The co-op office can be a great help, but they work with a certain number of companies each year, so you may be limited in your options if you do choose to apply through UL.
I applied for magazines, radio, and online publications all over the country. I quickly learned that it's important to remember to be realistic. While it might be amazing to work for a huge company in Dublin, you have to take into consideration the cost of living in the capital.
The unfortunate side is most placements don't pay, and those that do, pay very little. Although you can argue the invaluable experience you are gaining, sometimes a smaller company can benefit you so much more.
A smaller company gives the opportunity to work more hands on, to have more responsibilities, and to gain a lot more, with more to show for at the end.
A lot of you might ask when the best time is to start looking for your work placement. Well, I was an eager beaver so went about sending my CV along with a very carefully written cover letter, to a pile of companies, quite early on.
Although you are required to formally submit a styled CV through the co-op office, I personally felt I couldn't share a lot of crucial experience mentioned on my own CV.
What made me anxious was how close co-op interviews actually took place to the date we started. Usually a few others from your course will be interviewed for the same position, so how do you make yourself stand out from them?
For me it was experience, I had gained a lot of experience with online publications in the year leading up to my co-op. Having good grades is a plus, of course, but putting your knowledge into practice is invaluable. If that is difficult to do so early on in your career path, why not try volunteering. Building on your social and communication skills is essential when heading into a workforce.
You are encouraged to apply for your co-op through the college but it is okay to seek out your own placement too. I secured a number of interviews, quite successful interviews too. I was offered a place in radio, a magazine, an online publication and a newspaper. I was so grateful to have the opportunity to choose from pretty much every type of media outlet in Limerick, which made it quite difficult to decide which would be most beneficial.
I think co-op is about pushing yourself to the best of your abilities, to go outside your comfort zone and explore your options. Don't settle for the easy ride, or the handy six months. The experience you gain on placement can, in reality, change your life.
When you're fully qualified with your degree, whether you get a 1.1. or a 2.1, whatever it may be, employers are always going to look at your experience.
I currently have a portfolio overflowing with snippets of articles that I've written, features, blogs and hard news. To an employer, I have put my skills into practice, and that's evident in the experience I've gained in my course and in my co-op.
If your co-op is coming up and you want to boost your CV, get involved with things around campus. I joined ULFM and read news bulletins, which was a key thing to add to my CV.
The staff in the co-op office are very approachable, they will not be offended if you choose to secure your own placement. Whether it be here or abroad, don't be afraid to ask for help or advice.