By Jennifer Purcell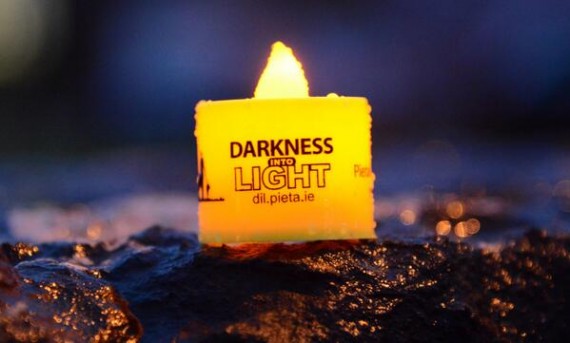 Darkness into Light (DIL) launched their sub-committee this week in The University of Limerick.
The aim of the committee is to get the student body walking from darkness into light in aid of Pieta House on the morning of May 9th.
Darkness into Light started in Limerick seven years ago, with 8,000 people taking part in the walk across Limerick last year.
This year, DIL Limerick is expanding to Newcastle West, Kilmallock and Kilaloe/Ballina who will each run their own walks.
Darkness into Light aims to get 100,000 walking, jogging and running this year in a bid to raise awareness for suicide and self-harm.
Tony Sheridan, chairperson of DIL says he hopes to grow numbers this year, despite those from Co.Limerick and surrounding areas taking part in their own walks.
"Last year people would have come from Shannon and Kilaloe so the challenge for us is to keep the numbers up in Limerick despite the fact that we want these other venues to grow as well."
The early morning represents hope and is symbolic of the work of Pieta House, with the aim to bring those suffering with depression, suicidal thoughts and mental illness into the light.
The walk begins at 4.15am as thousands gather in Thomond Park and walk together in a sea of yellow t-shirts, across 5k of historic and iconic parts of the city.
Last years event attracted over 80,000 participants in nearly 40 locations across Ireland. Sydney and London both marked their first walk from darkness into light with Irish natives setting up their own walks abroad.
"If you look at the growth, when we started in Galway their first walk had just 80 people, last year it had between four and five thousand."
"Last year there were 37 venues nationally making that 39 in total, this year we have doubled with 80 venues taking part, the growth is massive. It represents the flagship fundraising for Pieta House." said Tony.
Pieta House founder Joan Freeman said "It's remarkable to think that Darkness into light will reach 80 venues in Ireland and abroad this year."
Pieta House will also launch a pilot service in New York this summer, which will be based in the Irish immigrant Centre in Queens.
"With the high rate of emigration over the last number of years and with all the generosity and support offered by Irish people to Pieta House we owe it to the Irish abroad to offer them a service should they need it."
"Our mission remains the same in Ireland, but we are committed to offering the service to people who may need it further afield." said Joan.
As Joan addressed the crowd at the Darkness into Light launch, she spoke of the importance of connection.
"There is something going on that you may not see, or feel, or touch, and that's connection. While you are walking on the 9th of May, you are going to be connecting with so many cities globally.
"With Irish across cities in America and Australia walking, they will be connecting with you because they too believe in shouting about suicide prevention and fighting the fight."
Last years theme for Darkness into light was mind our men, where Pieta House urged us to look after the men in our life. With suicide rates in males significantly higher, Pieta House aimed to get men talking.
This year the theme is about connecting – connecting in particular to the people who are alone.
"On the morning of the walk you will see some people who are alone and by themselves, what I'm asking you to do is to walk with them."
"If you know somebody who is alone, please invite them to darkness into light. Share their journey, because if they're alone chances are they're lonely." She concluded.
Chairperson of Darkness into Light Limerick Tony Sheridan is a PhD student at The University of Limerick and a passionate mental health campaigner.
Last year Tony took seven challenges over seven days in a bid to raise awareness of suicide and mental health.
He urges the importance of connection. Liking, sharing and retweeting on social media but also the simplicity of talking.
"If you're having a cup of tea with a colleague or friend, tell them you're doing Darkness into Light on the 9th of May, and ask "do you want to come along?". Reach out to those who aren't"
"I got into this because I lost my mother to suicide, I've been suicidal myself. When I do this walk here in Limerick City I don't think about that. I think about that word hope."
"I love this event, it is a very positive thing for me. I think about the fact that I looked for help and am no longer suicidal. So many people have sought help because of the great work of Pieta House."
"This organisation gives hope for every person saved, it spreads hope through a country that was ravished with a problem that we're trying to fix." He concluded.
Darkness into light is a vital event on Pieta House's fundraising calendar. More than 80% of Pieta House's income is reliant on public donations.
As demand for the service rises, funds raised during Darkness into light are essential for Pieta House to continue to provide a free service for those seeking help.
Pieta House has nine centres throughout Ireland, providing a professional, one-to-one therapeutic service for those who are experiencing suicidal ideation or engaging in self-harm.
A doctor's referral is not required and the service is completely free of charge. Pieta House has supported 17,500 people, with more than 5,000 of those seeking help in 2014.
Limerick's Darkness into Light event is taking registration now. You can choose from Limerick City, Kilmallock, or Kilaloe/Ballina with a hope to make a difference, to make a change.
You can register online at www.dil.pieta.ie or sign up on campus where you see the pop up stands over the next two weeks. Those who register online can also collect their t-shirts in The University of Limerick between now and the day before the walk.